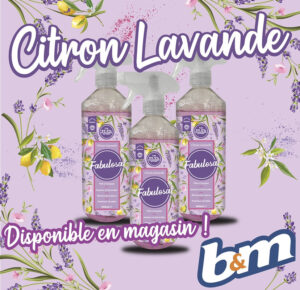 Fabulosa, the fragrance-led home and lifestyle brand is celebrating strong early trading results from its first major international retail chain listing.
Armed with its most popular cleaning and laundry range SKUs, Fabulosa entered the B&M chain (formerly known as Babou) in July, and sold more than 30,000 products in its first few weeks.
This latest development has seen Fabulosa gain entry into all the B&M stores throughout France, with a broad range including multipurpose sprays, kitchen sprays, bathroom sprays, all in one aerosols, foam fresheners, washing machine cleaners and laundry cleansers.
The most popular product so far has been Fabulosa's Room & Fabric Freshener, with more than 8,000 units sold. Also very popular is the Multipurpose Antibacterial Spray, which has sold more than 5,000 units in less than a month.
Marketing Director, Adam Burnett commented: "We have ambitious international expansion plans in place, and are thrilled with the extremely positive reception that we are seeing already. Many of our French customers are delighted to be able to pop into their local B&M store to pick up their favourite Fabulosa products."
"Fabulosa has entered Europe with the core products in the best-selling fragrances, and our impressive sell through rate is giving us tremendous confidence for what is to come as we secure additional listings and expand to additional territories."
Maxime Brou, Head of Trade at B&M France commented on the instant success of Fabulosa. He said, "We are delighted to be stocking a wide range of Fabulosa products as they continue to grow their brand internationally. The products are proving to be very popular with our customers and this is due to their wonderful scent range, their efficacy, and their price point."
For more information, visit: www.myfabulosa.co.uk