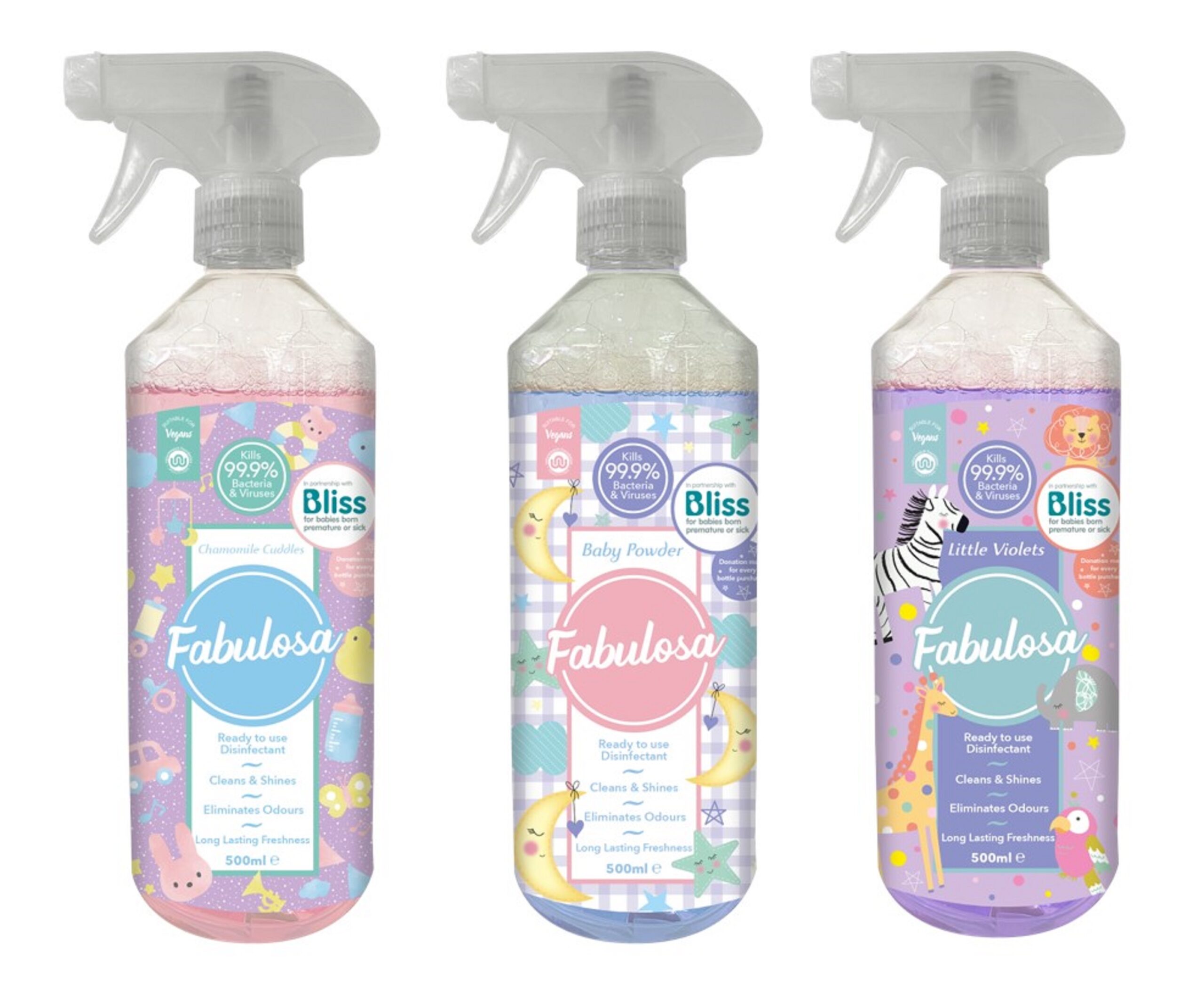 Fragrance-led home and lifestyle brand Fabulosa, has announced the expansion of its charity collection with Bliss following exceptional success since its launch and significant consumer demand.
Fabulosa's unique partnership with the UK charity for babies born premature or sick saw three exclusive 'baby-inspired' fragrances launched in 2021 – 'Little Violets', 'Baby Powder' and 'Chamomile Cuddles', available in a 220ml concentrated disinfectant, shortly followed by a 500ml multi-purpose antibacterial trigger spray.
As the collaboration continues to go from strength to strength, Fabulosa has more than doubled the size of the popular collection of three fragrances with the addition of spray & wear, multi-surface polish, washing machine cleaner, toilet roll, jumbo kitchen roll, and task-specific kitchen, bathroom and glass trigger sprays.
Along with raising significant funds for the charity, the partnership strives to raise awareness amongst Fabulosa's extensive customer base of the many challenges faced by families whose babies require neonatal care.  Each year in the UK one in seven babies are born requiring neonatal care, equating to 100,000 babies.
Adam Burnett, Group Marketing Director at Fabulosa comments: "The Bliss collection continues to be one of our best-selling product lines and we are delighted to build upon its success by extending our range even further, meeting consumer demand for this popular assortment while importantly raising more funds and awareness for Bliss.
"As a family-run business our charity and community partners are hugely important to us, and in addition to donating substantial monetary donations, we are committed to releasing regular feel-good products and fragrances to highlight the incredible work of these organisations."
The Bliss collection will be available across Home Bargains, Morrisons, Wilko and Poundland throughout January.
Established less than three years ago, Fabulosa has had a meteoric rise. First launching into the mature household cleaning category in 2019, Fabulosa has been rapidly taking market share. It's not only achieving more liquid volume share than all other liquid disinfectants brands, but with its unique prolific new product development (NPD) drive, the business has recently become the UK's number one privately-owned brand in the entire cleaning market, by volume and value. (Kantar 52 w/e December 26th 2021)
Fabulosa has supplied over 100 million units and launched more than 150 exciting fragrances since its launch, which are custom made by Fragrance Oils International who are owned by the world's largest perfumery and fragrance specialist Givaudan based in Geneva. Fabulosa's vast range includes Surface Care, Air Care, Laundry Care and Task Specific ranges including car care and garden care.
For more info on Fabulosa, please visit: https://myfabulosa.co.uk/
Bliss is the UK's leading charity for babies born premature or sick.
Bliss champions the right for every baby born premature or sick to receive the best care. We achieve this by empowering families, influencing policy and practice, and enabling life-changing research. Visit bliss.org.ukfor more information.