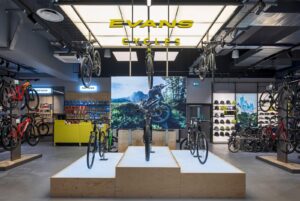 Evans Cycles, a UK specialist bike shop, has announced their latest store opening in Preston, Lancashire, appearing as a concession as part of the new Sports Direct store.
Preston has long been a hub of cycling with hundreds of miles of quiet country lanes ready to explore throughout the county and a variety designated cycling routes, on and off-road. It's a perfect location for cyclists of all disciplines seeking a touch of adventure. Evans Cycles hope to support the needs of the growing number of cyclists in and around Preston, and promote cycling generally as an active form of transport.
Covering 1,509 square feet, the new store will stock bikes across multiple disciplines, including road, MTB, hybrid, electric and kids bikes, clothing and accessories. The store will also include a workshop with staff on hand to help.Commenting on the opening of the new Preston store, Michael Briggs, Lead Area Manager at Evans Cycles said: "Buying a bike is always exciting, whether you're a weekend rider or looking for something to commute to the office on. It can be a daunting prospect with so many options and variations available".
"That's why we remain committed to expanding the bricks and mortar side of our business  – a great selection of bikes, clothing and accessories along with passionate, knowledgeable staff who can advise and lend a hand whenever required".
"We look forward to welcoming the Preston cycling community, instore – and helping more people to enjoy the ride".
For more information on this branch, and all of Evans Cycles' stores, visit https://www.evanscycles.com