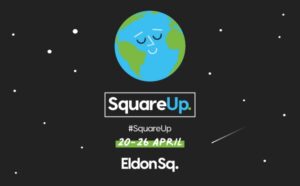 Image: Eldon Square.
This month, Newcastle's Eldon Square is launching its first-ever, sustainability campaign aimed at highlighting the positive changes its retailers have made to support its customers in introducing new ways to shop, eat, and live more sustainably.
As part of the campaign, from the 20th to the 26th of April, the Northeast shopping and dining destination will be hosting a week-long festival filled with in-store experiences, workshops, and demonstrations showcasing the latest in their centre brands sustainable innovations, products and recycle and repair schemes. Working alongside its retailers, the SquareUp! event has been developed to support visitors that are interested in making more sustainable shopping choices.
Retailer activities will take place across the mall and in stores throughout the festival. Key events include demonstrations from celebrity make-up artist Amanda Bell and Northeast stylist Maddie Sidebottom. They will be showcasing a range of sustainable brands on offer and providing advice to customers on how they can introduce sustainably sourced products into their make-up bags and wardrobes. Shoppers can also take part in a series of in-store experiences from a range of centre brands.
Tania Kelly, Marketing Manager at Eldon Square said: "We're delighted to be able to launch our first-ever sustainability festival in partnership with our retailers and restaurants.  The SquareUp! campaign aims to drive awareness and allow visitors to discover how our brands are bringing sustainable thinking into their stores.
"Working alongside the restaurants and brands in the centre, we strive to ensure that Eldon Square is a place where people love to visit, socialise and offers choice."
John Lewis & Partners will showcase their sustainable products and services across all floors from the 22nd to the 24th April, where customers can explore their sustainable journey including fashion, beauty and home.
For Earth Day, Superdry is hosting an event at its store and from the 22nd of April, shoppers will receive 20% off purchases from their sustainable ranges throughout the weekend, plus an exclusive customisation station on Sunday 24th April, featuring free personalisation from local artist Adam Claridge on all purchases from their Vegan Footwear collection.
To find out more about the in-store activities and workshops taking place across the week, head over to the Eldon Square website: https://eldonsquare.co.uk/squareup/