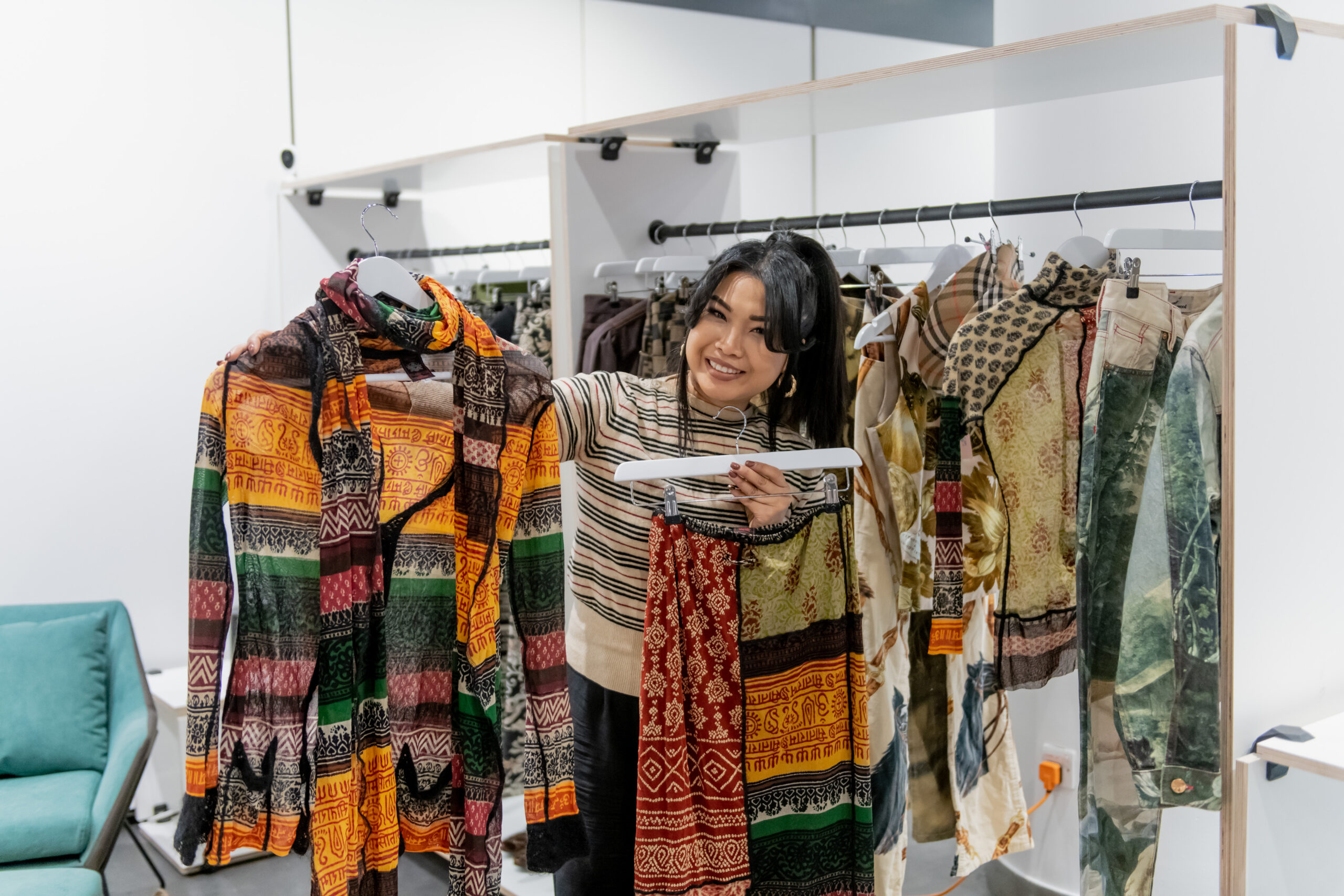 New pop up space The Collect launches on London's Oxford Street showcasing eight bold and dynamic independent brands.
Taking over the 5,000 square foot first floor of 500 Oxford Street, The Collect is an innovative use of vacant retail space in the heart of London's West End designed to support local creative talent.
With an aim to support talented entrepreneurs entering the industry, this mindful pop-up store is home to eight emerging brands – all of whom are passionate about sustainability and inclusivity.
The bricks and mortar space is giving these blossoming businesses a huge platform to increase their brand awareness and sales whilst diversifying the options available to high street shoppers.
The brands that make up The Collect are:
Archive Six – a female owned business based in London – and top seller on Depop – that specialises in second-hand clothes and rare vintage items
Bleaq – an inspiring community of designers who use creativity as a catalyst for social, political and environmental action
Moonlight Motel – an independent design studio focusing on the art of hand lettering and Chain Stitch Embroidery, Lana Hughes' inspiring designs use positive and meaningful messages
Löfte – The word 'löfte' means promise in Swedish. Löfte promises that every item will be carefully selected for both style and sustainability
Lone Design Club – a design collective that allows consumers to discover and shop from independent brands with traceable and mindful practices, selling exclusive & one of a kind pieces
Loop Generation – an ethically-minded platform offering the very best in pre-loved clothing and accessories
Never Fade Factory – an incubator program which works through collaborative group projects to produce sustainable fashion and art commercial items, specialising in creating "one of one" sustainable fashion pieces
Rebel Blends – Born in a kitchen out of the desire to solve a personal problem, Rebel Blends has evolved into a passionate protest against the standards in the conventional beauty industry
The entrance to the store features an immersive art installation by artist Carson Parkin-Fairley complementing the boldness of the labels found inside. The 'tropical haven' entrance utilises bright, vibrant colours where visitors are encouraged to take pictures of themselves and their buys. Parkin-Fairley describes the space as 'a world transformed by colour, joy and pattern, where nobody is a stranger and everyone is welcome'.
The brands use design as a tool to inspire change, with gender fluid fashion, ecological integrity, social justice, the use of innovative materials and mindful production. Brands found in The Collect all have a passion for sustainability, and many challenge the conventional standards in the beauty and fashion industries, taking an inclusive approach and questioning the norm. They are committed to changing consumers' attitudes and behaviours to shopping.
The Collect comes out of a partnership between Westminster City Council, New West End Company and James Andrew International, which is using vacant retail space to enable small scale businesses, homegrown start-ups and emerging creative talent to showcase in Central London.
Earlier this year, an open call was sent out, inviting local and emerging talent creatives to be part of a bricks and mortar space. The brands were curated by a panel of experts from New West End Company, Westminster City Council, and Appear Here.
The Collect Pop Up is located at 500 Oxford Street, London, W1 and will run until January 2022.