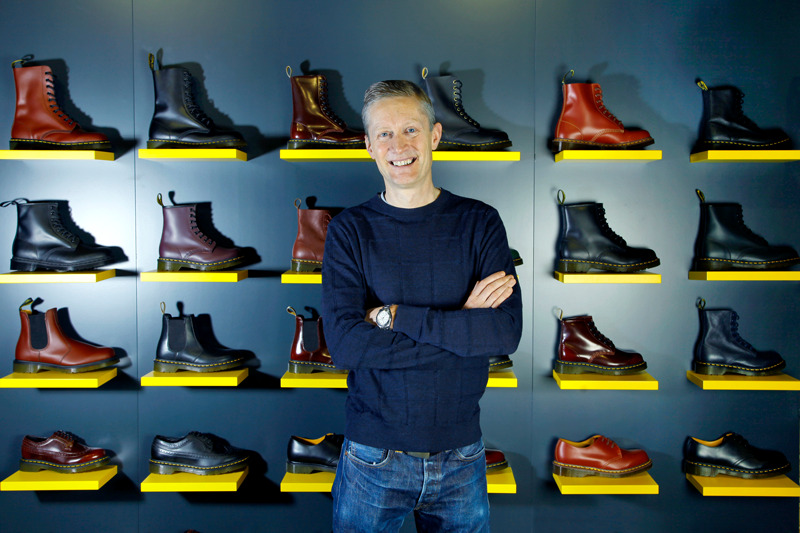 H1 revenue rise driven by a 21% rise in sales of boots, shoes, and sandals via own stores and website
Increased investment in new stores and marketing help boost sales direct to consumers
Additional cost-of-living payments to help staff in run-up to Christmas
Board raises dividend pay-out and maintains full-year revenue guidance
Dr Martens has today (November 24th) announced strong H1 results, boosted by continuing investment to grow its global footprint.
The iconic footwear brand, founded in 1960, revealed underlying revenue up 18% to £418.6m for the six months to the end of September 2022 and EBITDA maintained at £88.8m despite significant additional investment in new stores, IT, people and marketing to support future growth.
The business sold 6.3 million pairs of boots, shoes, and sandals, up 400,000 on an underlying basis compared with the same period of 2021, with sales increasing in all three of the group's key regions, North America, EMEA and APAC.
The results would have been even stronger but £10m of revenue from EMEA wholesale partners slipped from September to October due to strikes at the Port of Felixstowe and labour shortages at a Dutch distribution centre.
Iconic products, such as the original 1460 boot, 1461 shoe and 2976 Chelsea Boot, made up the lion's share of sales, as has always been the case, helping insulate the brand from the vagaries of fashion.
Sales in its biggest market, the US, were particularly strong, rising 31%, helped by new store openings in Houston and Chicago, and the strength of the US dollar. Japan also performed well, contributing 40% of APAC revenue, making it the company's third most important market after the US and UK. The company is currently in the process of transferring control of 14 of the 31 Dr Martens branded franchise stores in Japan to directly operated stores.
The company opened 21 new stores in the period, creating more than 250 jobs globally, and expect to open a further 13-15 in H2, putting it comfortably on course to meet its medium-term ambition of 25-35 more stores per year.
The new stores helped the company deliver a key pillar of its strategy, selling more product through its own stores and website, with sales direct to consumers via its own channels jumping 21% year-on-year to £179.8m.
The company also invested more in marketing and made a strategic decision to build inventory to meet growing demand, particularly in the US.
CEO Kenny Wilson said: "This has been another good period of progress in delivering our strategy of selling more pairs of boots, shoes and sandals direct to consumers via our own stores and website. We have seen good growth in all three key regions, and we continued to invest in the brand and growing our global footprint. Our success demonstrates the strength of the Dr Martens brand and its evergreen appeal to consumers of all ages and genders in markets around the world.It is also a huge testimony to the hard work and dedication of our people, and I am delighted that we have been able to offer additional payments to those colleagues across our business most likely to be impacted by the current cost-of-living squeeze."
The company is making payments of £500, or the equivalent in local currencies, to all employees based in the UK, US, Europe, South Korea and Bangladesh working more than 20 hours per week and who earn less than the equivalent of £45,000 per year. Those working less than 20 hours per week will receive half the amount.
The company has also set up a Hardship Fund to help those most in need, wherever they are based. Applications are considered monthly, with priority going to those with particular struggles such as, for example, unexpected healthcare costs or a partner losing their job.
Finally, the Board is proposing to raise the interim dividend 28% to 1.56p per share, increasing the pay-out ratio to 35% from 25% a year ago, reflecting continuing confidence in the performance and prospects of the business.
Share this story