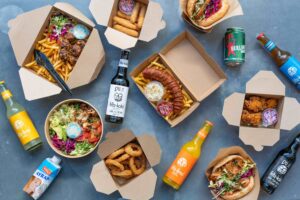 German street food restaurant, Döner Shack, has signed for its debut Scottish restaurant at Glasgow's Silverburn; a major step in the brand's expansion throughout the UK.
Döner Shack has selected Silverburn's Winter Garden, the destination's restaurant and leisure hub, to launch its street food concept. The fast-casual 3,122 sq ft restaurant aims to challenge perceptions of kebabs in the UK, with a menu made from high-quality and ethically sourced ingredients, with all-day dining, takeaway, delivery, and click & collect services.
Catering to 65 covers, the restaurant will offer authentic kebabs using fresh, homemade artisan bread with signature sauces. As well as classic doners and shawarma, there will be halloumi and falafel, vegan schnitzel and currywurst, with a selection of draught beers, milkshakes, and soft drinks.
Launched by the team behind the Berlin-inspired restaurant, Döner Haus, Döner Shack's Silverburn restaurant will launch in the coming months, joining the brand's locations in Leeds, Manchester, and Leicester.
Sanjeev Sanghera, Co-Founder and Managing Director, Döner Shack, commented: "Spearheading the new generation of street food, our aim is for Döner Shack to be the number one kebab brand in the world, and opening our first store in Scotland is a real milestone. Silverburn's best-in-class all-round offering and well-connected location makes for a unique day-out experience, and we are eager to open our doors in Scotland for the first time."
David Pierotti, General Manager at Silverburn, added: "Silverburn thrives because of its diverse offer, so adding to this with a new cuisine – and a booming one at that – is exactly what makes the destination a landmark for Glasgow. Döner Shack is an exciting concept, and a leader of the new wave of 'better babs' which extends Silverburn's restaurant and entertainment roster, so we look forward to welcoming the brand  to our community."