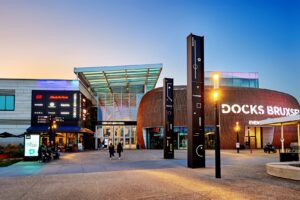 Property Investor/Asset Manager Portus Retail has secured a collection of new brands for its canal-side shopping centre in Brussels. Over a 9-month period, Portus Retail has agreed terms and signed leases that will bring 12 new brands to Docks Bruxsel, with the occupiers taking up a combined total space of 6,076 m2. Expanding the centre's diverse food and beverage offering, the addition of names including Bel Chicken, O'Tacos/Go Fish, Black & White, You Wok, Hawaiian Poke Bowl, Dunkin' Donuts and Bubble Waffle, will further exemplify Docks' position as a leisure shopping destination. The new additions will offer a collection of takeaway and indoor dining for shoppers looking to stay refreshed as they explore the centre's extensive shopping options.
Adding to the shopping experience, Docks has signed leases with Action, Avenue Fitzgerald, Cover Dreams, and Courir. These new stores add to the centre's 78-strong retail offering, providing a wide range of shopping outlets for every budget and helping to bring visitors to the centre to explore their favourite stores alongside the strong food and beverage offerings.
Creating a leisure attraction for all the family has continually been at the forefront of Portus Retail's plans for Docks, as evidenced in the recently announced signing with Merlin Entertainment to open what shall be the world's first, next generation LEGOLAND Discovery Centre opening in 2022. The new LEGOLAND Discovery Centre will offer a unique experience for visitors of Docks across a vast 3,000 m2 unit.
Peter Todd, Founder of Portus Retail, said, "We are delighted to welcome an incredible array of new stores and food and beverage options to Docks. The continued growth of the centre reflects the high demand for retailers to connect with our strong consumer base, who continue to shop at Docks in their millions. As the pandemic begins to ease, we are excited to welcome back visitors in high numbers as they explore their favourite stores both old and new prior to the launch of the new LEGOLAND Discovery Centre next summer."
The growth of Docks Bruxsel comes off the back of strong footfall figures which show that the centre has survived the Covid pandemic in exceptional form. Whilst footfall in 2020 fell by 24% compared to 2019, this drop reduces to only 2% if periods of full mall closure due to Covid restriction lockdowns are excluded.  In Q1 of 2021, with all leisure and F&B units closed (other than for take away) footfall fell by only 8% compared to 2019 and showed a 55% increase on 2020.