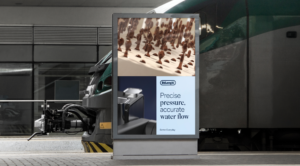 De'Longhi started its partnership with global brand transformation company Landor & Fitch by asking for an evolution  of the brand that would help maintain its leading spot on the coffee machine market. The challenge was to start from a strategic rebrand of its positioning, and translate it into a solid and consistent identity that could be modular and adaptable worldwide.
The brand's motto 'Better Everyday' inspired the Landor & Fitch team to create something unique for each customer, in line with De'Longhi's aim to transform any home experience into moments of pleasure. The brand strategy focused on the magic inside the machine, which then led to 'The Art of Transformation'. This concept was brought to life through effective visual elements that create impact and consistency across all of De'Longhi's content, communications and channels.
The revised brand identity includes stylish visuals and videos highlighting the brand vision and mission, two bespoke typography families suitable for technical content, projecting a warmer feel across the packaging system and POSM (Point of Sales Materials).
A static and motion 3D library, developed together with Subdivision Studio, helps to promote 'The Art of Transformation' across different touchpoints, including social media. The creative ideation behind this content championed 'The Abstract Consistency', a way to emphasise and make a concrete process fascinating. This creative was directly positioned against product detail shots to set an engaging rhythm for the video content. The 'De'Longhi frame', with its highly recognisable form, is an iconic asset.
A unique photographic style will follow specific themes and treatments to inspire and connect with the values of the De'Longhi brand.
Antonio Marazza, Landor & Fitch Milan General Manager, commented: "Our strategic challenge was to give De'Longhi an authoritative and unmistakable role within the crowded coffee market. In the assessment phase, we discovered that quality in coffee perception is mostly tied to the beans, and no one talks about how the transformation process is vital to obtain a perfect coffee. So, we started from this insight to build out the new De'Longhi brand identity and narrative." 
Zeno Adami, Global Brand Director at De'Longhi, commented: "This rebrand represents the very heart of what we do and believe in – making everyone's everyday life better. Our partners at Landor & Fitch developed a strong concept and brought it to life through a stunning design, which balanced our heritage with our vision for the future. We look forward to collaborating further as we bring the brand to life across other channels, including retail, too."