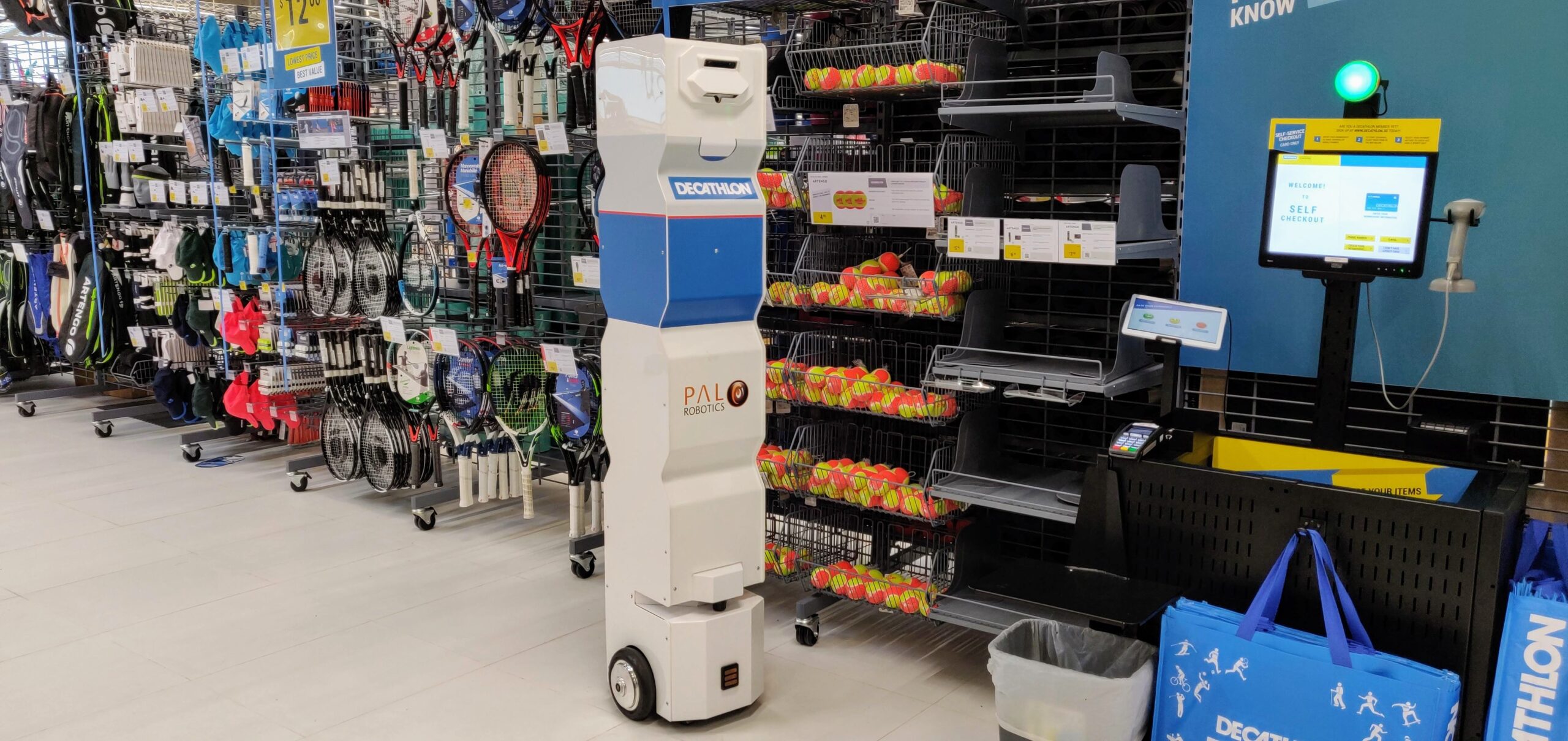 Decathlon and PAL Robotics have launched a global partnership after PAL Robotics' StockBot inventory tracking and data collection solution was selected for rollout across Decathlon stores in multiple countries, assisting the team and elevating in-store experience. The retailer has implemented the solution in order to improve in-store operations and efficiencies so that teammates are able to dedicate more time helping customers for a better customer experience, as well as helping improve product availability rates.
PAL Robotics' StockBot solution was first implemented in Decathlon Singapore, as well as more recently in France, The Netherlands, Spain, Portugal, Poland, Ireland, Italy, Taiwan, Thailand, Malaysia, and Australia. Discussions are also ongoing on further deployment opportunities in other countries.
Decathlon was looking for a solution to be able to provide accurate data on stock, as well as save time taken to do stock taking manually, impacting on in-store efficiency and productivity. StockBot is easily deployed within different stores as it does not require any layout modifications and is seamlessly integrated with the existing software systems. StockBot reads and detects all the products in-store and then validates the data. Using this type of technology helps gain a better visibility of stock, and of course, automate inventory tracking and workflow. StockBot provides data on stock and business and is easily integrated with RFID tags in-store. With StockBot once set up, pressing one button means the robot is able to do inventories automatically, in order to save time.
Decathlon Singapore originally implemented StockBot in their store in 2019. Mathieu Blanchard, Technical Director of Decathlon Decathlon South East Asia said, "for any retailer, ensuring that customers are visiting your store and will find the products they are looking for is crucial."
Janice Morin, Sports Leader for Trail Running in Decathlon Singapore explained, "before we had StockBot stock-taking work was very laborious, it was very manual and we allocated a lot of time to do our inventory. Now it takes us two hours to finish all the inventory and then we allocate our time to do other things like helping customers."
Dr. Jordi Pagès, Head of Retail & Intralogistics Solutions at PAL Robotics said, "at PAL Robotics we are delighted to be working with Decathlon, a long-established global retailer, to help them improve their inventory tracking and operations so they can focus more on customer experience. Our StockBot solution has been used in apparel, supermarkets, and distribution centers around the world, from Europe and Asia, to Oceania. For us, it's very important to work together with retailers to help them develop and update their processes so they can then focus on other benefits."
Decathlon is a family-owned company, founded in 1976, and inspired by the belief that the best sports products should be accessible to everyone. Ever-evolving and high-performance design, the best quality at the lowest possible price, and expert advice that customers of all ages, backgrounds, and skill levels can access in-store or online, from anywhere, at any time, is what makes them who they are. The international sports retailer has 1,714 stores in 61 countries.
For a number of years, PAL Robotics has been helping leading retailers automate their processes, strengthen their relations with customers, and stay ahead in the retail sector with service robots.  PAL Robotics develops state-of-the-art service robots specially designed to solve customers' needs, including retail robot StockBot, humanoid robots REEM-C, TALOS, TIAGo and ARI, quadruped robot SOLO 12, and intralogistics solution, TIAGo Base.
PAL Robotics' StockBot robot automates daily inventory tracking and provides data to inform decisions. The platform provides accurate stock information to smartly manage stores, while seamlessly integrating with retailer's systems. PAL Robotics' StockBot solution is the most mature in the inventory tracking solutions market and is ready to use with a single setup.
Visit the PAL Robotics website to learn more about the StockBot robot: https://pal-robotics.com/robots/stockbot/
Visit the Decathlon website to learn more about the multinational sports retailer: https://www.decathlon.com/