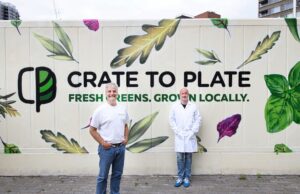 Lendlease has announced that revolutionary urban farming business, Crate to Plate, has joined Elephant Park, where they will produce over five tonnes of fresh produce every year for the sale of which is specifically targeted at restaurants, businesses, and residents within its immediate vicinity.
By harnessing hydroponic technology and eco-friendly innovation, Crate to Plate grow their produce in purpose-built, sustainable containers, which allow them to fully control the farming conditions. This form of vertical farming means vegetables can be grown locally in urban environments, all year round, using minimal water, allowing produce to be delivered to consumers within 24 hours of harvest, with zero carbon footprint in transporting from farm to customer. As a result, the produce is as fresh as possible and has the highest possible nutrient value – completely free of pesticides and toxic chemicals.
Crate to Plate aims to deliver produce only to local residents and businesses, within a half mile radius of their Elephant Park site. Lendlease intends to extend this innovative process across other sites, including at International Quarter London (IQL), the 22-acre emerging neighbourhood in Stratford.
Crate to Plate founder Sebastien Sainsbury, commented: "We're excited to be expanding to a second location at Elephant Park. At Crate to Plate, we are strongly committed to supplying residents of Elephant Park and the wider Southwark community with the freshest and highest quality, non-GMO food possible. We are proud to partner with Lendlease and look forward to helping them achieve a more sustainable living culture and further sense of community across their developments."
Guy Thomas, Head of Place Assets at Lendlease, added: "Lendlease is committed to leading the evolution of our industry to be truly sustainable – environmentally, socially and economically. Crate to Plate share our vision for healthy, vibrant communities with sustainability at their heart, so we're pleased to welcome them to Elephant Park and look forward to working more closely with them in the future."
Collaborating with brands like Crate to Plate, which champion sustainability, tackle climate change, and help build healthier communities, is part of the wider Lendlease commitment to achieve its own environmental and social targets.