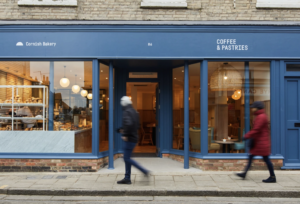 Independent bakery chain Cornish Bakery has announced the opening of another bakery in Rye in late January, with six other sites currently in development in Plymouth Barbican, Bury St Edmunds, Stamford, Beverley, Bakewell and Caledonia Park at Gretna Green. Further sites will be announced shortly.
After just three weeks of trading in Rye, the first Cornish Bakery in full re-branded livery and styling has swiftly become a hit with locals and visitors alike with an impressive net promoter score (NPS) of 82.9%.
Founder Steve Grocutt says, "Rye has been incredible.  We always knew this would be a perfect fit, but it has already far exceeded our wildest expectations.  Alongside positive comments about our new look and feel, we're gaining glowing 5 star reviews and consistent NPS scores of above 82%.  I would like to thank our brilliant teams for pulling off another successful opening.  Their dedication and continual striving for industry leading standards stuns me all the time."
Steve continues, "Our performance overall is far exceeding our expectations but what amazes me the most are the incredible customer and team scores we achieve. Here we go – another one open.  Bakery is most definitely the new coffee shop!"
Find out more about Cornish Bakery at www.thecornishbakery.com.