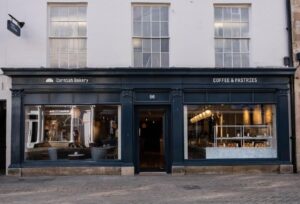 Independent bakery chain Cornish Bakery has immediately proven itself as a vital part of the local community with the recent opening of its Stamford bakery.
The company was recognised as a top 10 fast-growth listing in British Baker's Bakery Market Report, and the new Stamford location fits perfectly with the ongoing expansion plan.
The Cornish Bakery's brand's purpose is to nourish people.  Each bakery team is empowered to deliver this on this promise and Stamford's manager, Joshua Sharp, has immediately taken the opportunity to collaborate with nearby charities.
The first of those is Second Helpings, a project run in partnership with Stamford Methodist Church.  Based in the heart of the town, the charity's volunteers work with local suppliers and supermarkets to redistribute surplus food nearing its best before date to the community.  The organisation is passionate about reducing food waste and working with the community to reduce environmental impact.  Since its opening, any stock that is leftover at the Cornish Bakery is picked up by the charity and made available to the service users.
Cornish Bakery Founder Steve Grocutt says, "Our ongoing impressive growth is very much down to our culture and team empowerment. All of our bakery team members report that they feel increasingly motivated and that our independent mentality is one of the key reasons they love coming to work with us."
Steve continues, "We are building a business that has a lot of passion and a very strong culture and our Stamford opening has certainly proven that.  It makes me very proud to see our team there creating and building these relationships off their own backs, alongside the impressive trading that they're achieving."
Find out more about Cornish Bakery at www.thecornishbakery.com