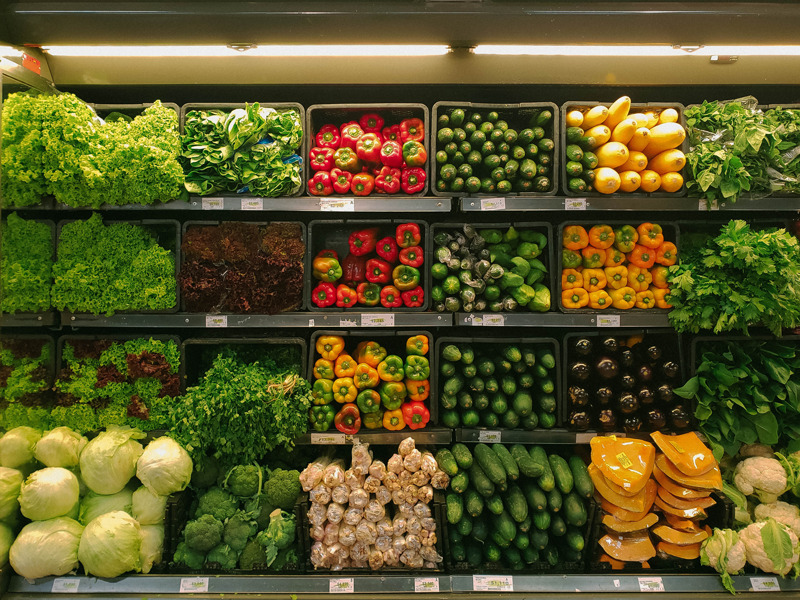 Growth of supermarket spending slowed, as consumers continued to find ways to reduce the cost of their weekly shop
Produce shortages are impacting grocery shopping behaviour, with tomatoes, eggs, peppers, cucumbers and lettuce the items most difficult to source
Spending on public transport jumped 22.6 percent, as commuters locked in rail fares ahead of the 5 March ticket price hikes
Three in 10 Brits will cut back on Easter celebrations this year, with one in four planning to spend less on Easter eggs
The Barclays report combines hundreds of millions of customer transactions with consumer research to provide an in-depth view of UK spending
Consumer card spending grew just 5.9 percent year-on-year in February, below the latest CPIH inflation rate of 8.8 percent, owing to a reduction in discretionary purchases amidst the ongoing the cost-of-living squeeze. Growth rates were also impacted by the lifting of Omicron Plan B restrictions last year, which caused a spike in spending due to pent-up demand, bringing down this year's figures.
Data from Barclays, which sees nearly half of the nation's credit and debit card transactions, reveals that spending on groceries increased just 6.6 percent in February – well below the latest food price inflation figures – as almost seven in 10 (68 percent) Brits say they are looking for ways to reduce the cost of their weekly shop.
Almost half of these shoppers are cutting down on luxuries or one-off treats for themselves (49 percent), while a similar proportion are buying more budget/value ranges (48 percent) and making a shopping list so they only buy what they need (46 percent).
Brits are also switching up where they shop in order to save money. Of those trying to cut costs, a third (34 percent) are shopping at multiple supermarkets to source a range of deals, and three in 10 (30 percent) are shopping in larger supermarkets, because they tend to have lower prices than smaller stores.
Salad Crunch 
Food shortages are also influencing grocery shopping habits, with one in two (51 percent) Brits noticing that some shelves in supermarkets are considerably emptier than normal. Over a third (35 percent) has found they are less able to buy the items they need because of these shortages, while a similar proportion (33 percent) has seen supermarkets restrict the amount of certain items they can buy. Tomatoes (43 percent), eggs (34 percent), cucumbers (22 percent), peppers (19 percent) and lettuce (16 percent) are the top items shoppers have seen shortages of recently.
Falling Fuel, Rising Rail 
Spend on fuel increased just 5.0 per cent year-on-year – likely due to falling petrol and diesel prices, as well as the uplift in car travel seen in February 2022, brought on by the easing of Covid restrictions and the end of work-from-home guidance. Meanwhile, spending on public transport saw a sizeable uplift (22.6 percent), as commuters locked in fares ahead of the recent 5.9 percent increase in train ticket prices, which came into effect on 5 March.
Discretionary Spending Freeze
As households switched on or turned up their heating amidst the cold weather, spending on utilities grew 43.2 percent, with two thirds (67 percent) of consumers consciously trying to save energy at home.
In response to rising household bills, nearly six in 10 (58 percent) are cutting down on discretionary purchases, with spending on non-essential items seeing a markedly smaller year-on-year uplift (5.5 percent) than in January (10.4 percent). The slower growth is also because last month's figures were inflated by Brits having had fewer opportunities for non-essential spending in January 2022, during the Plan B restrictions.
Card spend on clothing (-1.2 percent) was also impacted by last year's Omicron guidelines – the category saw a considerable uplift in February 2022 as Brits bought new outfits to celebrate the end of restrictions, which 2023 couldn't match. In addition, the data shows that 65 percent of the shoppers who are cutting back on discretionary purchases are reining in spending on new clothing and accessories.
Pent-up demand for eating and drinking out in February last year, combined with the impact of ongoing inflationary pressures, meant restaurants also saw a decline (-3.0 percent), while pubs, bars & clubs saw a considerably smaller rise (7.7 percent) than in January (18.1 percent) – although it's worth noting that January's figures were also inflated by the Plan B restrictions last year.
However, as consumers continue to seek out bargains, discount stores were a bright spot, rising slightly faster than in January (5.5 percent versus 4.2 percent).
Insperiences also benefitted from the release of new boxsets such as 'The Last of Us' and series four of 'You', plus blockbuster hit "Black Panther: Wakanda Forever", which fuelled a 2.2 per cent rise in spending on digital content and subscriptions – the first growth for the category since November 2022.
Super Dupe'r Savings  
In an effort to save money, over a third (34 percent) of consumers are buying 'dupes', otherwise known as affordable versions of more expensive, popular products. The most popular items shoppers are buying 'dupes' of are food and drink products (68 percent), clothing (28 percent) and make-up and beauty products (23 percent).
Egg-onomical Easter
The cost-of-living squeeze is set to impact Easter this year, with three in 10 (30 percent) Brits aiming to reduce their Easter spending due to rising costs. Of those marking the occasion, a quarter (25 percent) will be spending less on Easter eggs, one in five (22 percent) is scaling back Easter holiday plans, and 28 per cent intend to spend less on Easter meals out (28 per cent).
Despite this, consumer confidence in household finances remains steady at 64 percent, while optimism in the future of the UK economy has increased slightly to 24 percent – up from 21 percent last month.
Esme Harwood, Director at Barclays, said: "Several categories saw their growth taper off last month, especially those in the hospitality & leisure sector. This is partly because they couldn't match the pent-up demand witnessed at the end of last year's Plan B restrictions, and also due to the ongoing cutbacks brought on by the cost-of-living squeeze.
"The recent fruit and veg shortages are forcing Brits to consider alternatives for their weekly shop, as they continue to look for savvy ways to offset rising food price inflation. Popular trends this month include buying 'dupes' of popular products, shopping at discount stores, and limiting Easter spending."
Silvia Ardagna, Head of European Economics Research at Barclays, said: "The UK economy flirted with a recession in the second half of last year as real GDP declined in Q3 and was virtually flat in Q4. Persistent elevated inflation continues to take a toll on spending, as indicated by today's figures, which could prolong the headwinds.
"However, some survey indicators for consumer confidence, and the recent business activity in the manufacturing and services sectors both point to tentative signs of a rebound. The labour market remains tight, with wage growth too strong for the Bank of England to stop hiking. We expect an additional 25bp increase to the Bank rate in March to 4.25 percent."
Image courtesy of Unsplash.
Share this story