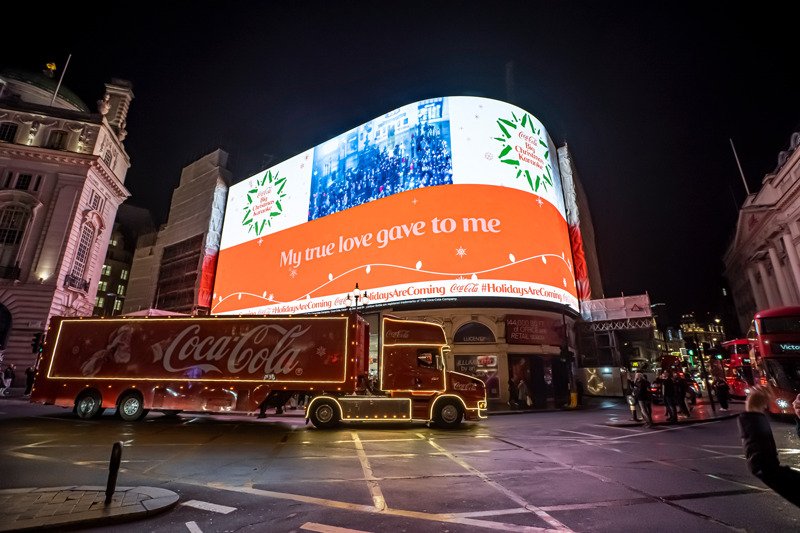 Piccadilly Circus was illuminated in festive red on Thursday evening as part of a huge Coca-Cola Christmas sing-along
Thousands joined the live karaoke moment celebrating the return of the brand's much-loved "Holidays Are Coming" advert
Holidays are coming! On Thursday evening, one of London's most famous landmarks lit up in Coca-Cola red as thousands came together to celebrate the magic of Christmas with a festive sing-along.
Following the success of the first ever live karaoke experience on the iconic Piccadilly Lights in 2019, Coca-Cola returned this year to lead revellers in popular Christmas carols and, of course, the much-loved "Holidays Are Coming" song – made famous by Coca-Cola's legendary Christmas television advertisement.  This sparkling evening gave festive visitors and shoppers a magical moment, singing together, led by magnificent voices.
To make the experience even more memorable, those taking part had the chance to see themselves larger-than-life, as their image was streamed live onto the famous Piccadilly Lights, providing a once-in-a-lifetime moment to share with friends and family via social media.
Laura Moon, Senior Brand Manager at Coca-Cola Great Britain, said: "This year, we want to share the magic of Christmas with more people than ever before and we were delighted that so many came together for our Christmas karaoke sing-along, creating a very special and festive moment.
This evening marked the start of our Christmas activities and we're now looking forward to celebrating with fans nationwide as the iconic Coca-Cola Christmas Truck Tour spreads the spirit of the season."
Coca-Cola has long been synonymous with the start of the Christmas season and the much-loved "Holidays Are Coming" advertisement and the Christmas Truck Tour have become keenly anticipated moments during the festive period. The famous Coca-Cola Christmas Truck Tour will be visiting all corners of Great Britain in the lead-up to the big day, offering fun activities for local communities to get involved with.
With a packed schedule of exciting Truck Tour stops taking place in the lead-up to Christmas, eager Coca-Cola Christmas Truck fans can follow announcements about the schedule which will be made over the coming weeks at @CocaColaEU (Instagram) and @CocaCola_GB (Twitter).
Share this story