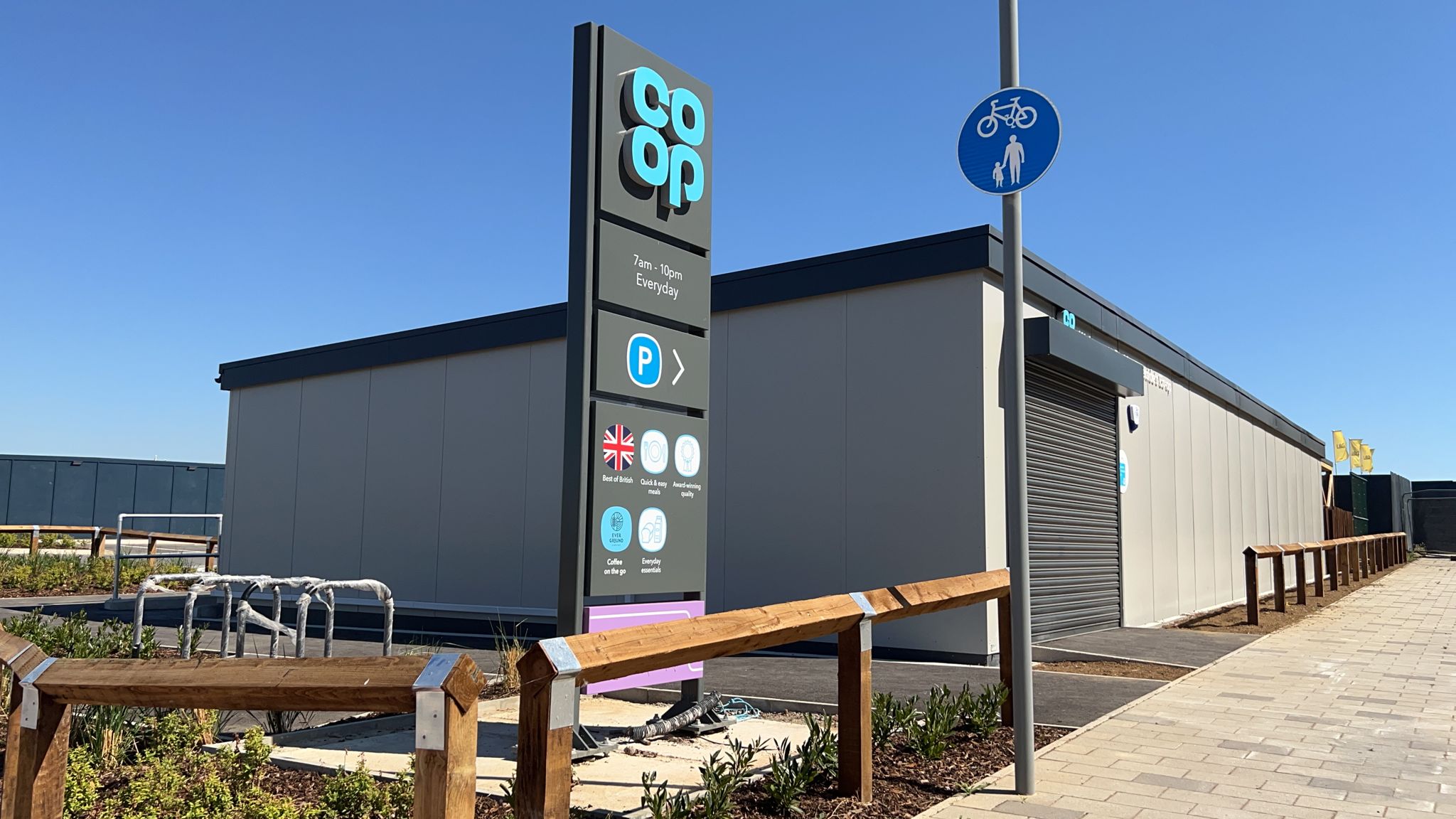 Co-op has opened its largest pop-up store to date, to serve customers at London's new residential hub, Barking Riverside.
The new food store, which is a temporary, modular design, will serve the community and enhance the amenity offer at Barking Riverside for existing residents before the convenience retailer moves into its new, permanent location, in a later phase of the development.
At 1,500 sq ft, the convenience store is the retailer's largest 'temporary' store and has been supplied by Worcestershire-based modular retail experts, Rapid Retail.
The new store will support up to 15 local jobs and has been acquired by the Co-op on an initial three-year basis from Rapid Retail. The unit comes complete with shop floor fittings, refrigeration, shelving and tills including self-serve, as well as the back-of-house that has a cold room and bakery facilities.
It is the Co-op's first pop-up modular shop that has been supplied fully fitted out with all appliances included, designed to the convenience retailer's specifications. The portable nature of the building also means it can be relocated afterwards.
Earlier this year it was confirmed that pop-up shop provider, Rapid Retail, had secured a supply agreement extension with Co-op, supporting the retailer's commitment to serve and support communities where temporary structures provide a retail solution.
The new store in Barking Riverside opens between 7am-10pm daily, and includes customer car parking, Fairtrade coffee machine, bakery, Paypoint and Lottery, alongside a focus on fresh; healthy products; meal ideas; everyday essentials; food-to-go; award winning wines and beers; ready meals and free-from; vegan and plant-based products – including Co-op's exclusive vegan range, GRO. Deliveroo home delivery is available, and Amazon parcel collection is set to come soon for added ease and convenience.
A funding boost is provided locally through Co-op's Membership programme. Membership of the Co-op unlocks additional value through in-store offers and promotions, and sees Members rewarded with 2p in every pound they spend on Co-op branded products which is added to their own personal Membership account balance – Co-op also donates the same amount to local causes and community organisations.
Students who are TOTUM cardholders – the new name for NUS extra – also receive a 10% discount off groceries at the Co-op.
Martyn Clarke, Co-op Regional Acquisition Manager, said: "We are delighted to have the opportunity to launch Co-op's newest store, and serve the community from our temporary, modular, store while we await the development of our new permanent home on the site. We are pleased to work with Rapid Retail, the units enable us to meet the needs of Members and customers locally and provide an ideal temporary solution. The store will work to operate at the heart of local life and the team are looking forward to welcoming Members and customers into their new Co-op – we have worked to create the range, choice, products and added services to create a really compelling offer to serve the community with Co-op's quality and value, conveniently."
Nick Daffern, MD of Rapid Retail, said: "We're delighted to have built on our long-standing relationship with Co-op with this project and continue to support them in capitalising on the many benefits of pop-up shops. Every unit we supply is self-contained and highly secure. When they are no-longer needed, they can simply be moved to another location, making it a very cost effective and sustainable model. The fact they can be acquired through a rental agreement and put in place at speed, makes them a very attractive option for retailers."
Co-op has more than 4M active Members, and alongside Food, it operates: Co-op Funeralcare, Insurance and Legal Services.
More information about the benefits of Co-op Membership is available by visiting https://www.coop.co.uk/membership
Share this story