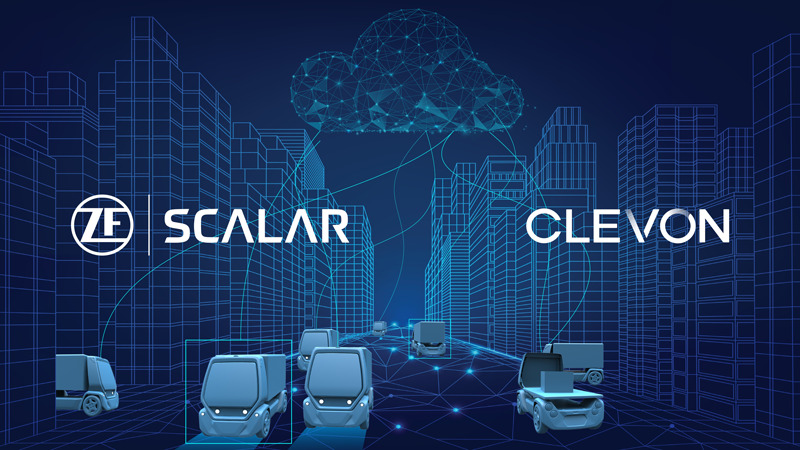 Clevon, a global autonomous delivery innovator, and ZF, the global technology company, have announced a strategic collaboration that brings together Clevon's Autonomous Robotic Carrier technology and ZF SCALAR, the world-leading real-time AI-based fleet orchestration platform.
Clevon and ZF are joining forces to accelerate the deployment of efficient and integrated next-generation last-mile delivery services using driverless carriers in urban and on-yard environments.
"Clevon is making driverless deliveries happen already today. We are active in the US, Belgium, Lithuania, and Estonia; however, we have the capacity to expand more rapidly, and we are ready to safely bring fleets of carriers on public roads. This strategic collaboration with ZF will help us to reach this goal," said Sander Sebastian Agur, CEO of Clevon.
ZF Commercial Vehicle Solutions has developed SCALAR, a software-as-a-service platform designed to provide real-time fleet orchestration to driverless vehicles of any kind and in most operational domains. Based on years of experience in developing fleet management systems, combined with next-gen AI technology, SCALAR has been actively deployed on public roads and in real traffic conditions.
"Thanks to SCALAR's automated decision-making, real-time optimisation and advanced operational efficiency, CLEVON 1 vehicles will be sent to the right place at the right time. More parcels or groceries will be delivered on time with less vehicles to ensure efficient delivery operations and the best customer experience. Our collaboration with Clevon brings a unique combination of next-generation mobility technologies to the market of last-mile delivery," said Hjalmar Van Raemdonck, Head of Digital System Solutions with ZF's Commercial Vehicle Solutions division.
Clevon and ZF teams will work together to carry out a full-scale integration of the SCALAR SaaS platform and CLEVON 1 vehicles over the upcoming months and deploy it to manage CLEVON 1 unit fleets on public roads. The integration of ZF SCALAR will allow Clevon to focus on its core competence and the development of autonomous driving functionality and, at the same time, build courier fleets to test its technology and scale its worldwide operations.
Share this story