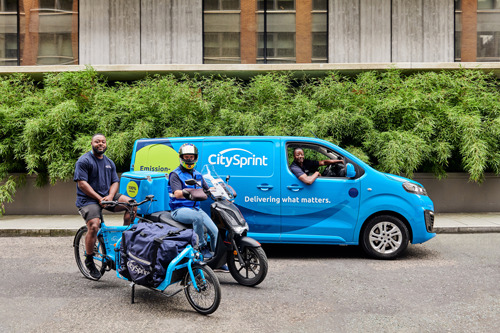 The new couriers will support CitySprint ahead of the 2022 peak season rush, as well as in the longer-term, as the business sees an uptick in logistics demand
Roles available in London, Birmingham, Manchester, Leeds, Nottingham, Heathrow, Milton Keynes, Warwick, Newcastle, Edinburgh and Cambridge
CitySprint — a UK same day distribution company — has announced that it is looking for over 600 couriers across the UK. The new recruits will support with ongoing logistics demand during this year's peak season and beyond, as the business continues to grow.
The weeks leading up to Christmas are the busiest time of the year for many businesses and retailers across the UK, and the logistics sector is no different, with increasing demand for fast delivery turnarounds and much larger volumes.
The couriers will join CitySprint's fleet of over 3,500 couriers across the UK, with the business hiring across a range of vehicles, with a particular focus on small and large vans. They are also looking to employ drivers for their electric vehicles as they continue to expand their electric van fleet by another 40 by the end of 2022, with more due to be rolled out in the early part of 2023.
Together, they will help ensure a smooth service for CitySprint's wide variety of clients across every industry, especially retail, throughout peak season and beyond.
These couriers are needed across the UK, with a specific focus across the following cities:
London
Birmingham
Manchester
Leeds
Nottingham
Heathrow
Milton Keynes
Warwick
Newcastle
Edinburgh
Cambridge
Discussing the benefits of working as a courier, Mike Clarke, a courier for CitySprint in Brighton said: "Before joining CitySprint in 2020, I was in the building trade for 40 years but was looking for a change. Then, one day, my daughter, who is the Brighton Service Centre Manager, told me all about the type of work that couriers do, and I decided to give it a go. It's a choice I don't regret one bit! I love that you're always on the go and get to travel to loads of different places and meet many interesting people (and lots of dogs!) every single day. It's honestly the best job I've ever had, and I can't recommend it enough!"
London-based courier Darren Dutnell adds: "I've been a courier with CitySprint for over nine years now and can say without a doubt that it's a job I am extremely passionate about. I love the freedom it brings and providing a valuable service to businesses as well as the general public — meeting and talking to a wide range of people day in, day out. If you are after job satisfaction and are someone who enjoys communicating and are prepared to put in the hard work, then I suggest giving CitySprint a call."
Mark Footman, Chief Operations Officer at CitySprint, commented: "Our focus is always on providing our clients with the best possible service and, in turn, helping them do the same for their customers. Getting the festive-season supply chain right can be difficult and we understand how important this time of year is for everyone. With just over eight weeks to go until Christmas, we're making sure we have the right team in place to provide a first-class service for our customers to help keep their operations moving during this year's peak season. We're also bolstering our fleet to support the ongoing demand we foresee in January 2023 and beyond."
For more information on becoming a CitySprint courier, visit and apply today: https://www.citysprint.co.uk/couriers
Share this story