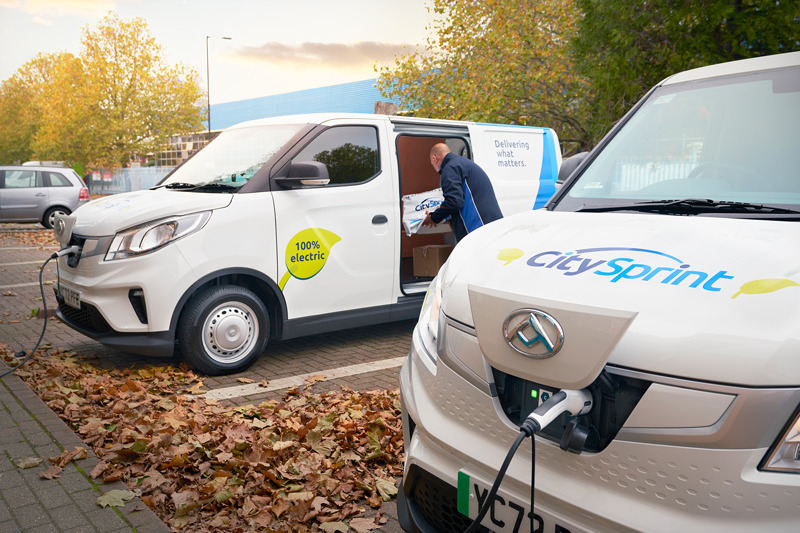 CitySprint — the UK same day distribution company — has announced the expansion of their electric vehicle (EV) fleet with the acquisition of 40 new electric vans from vehicle manufacturer Maxus.
The new electric vans, which have an impressive range of up to 213 miles/344 kilometres on a full battery, will add to CitySprint's expanding green fleet to offer customers a range of sustainable delivery options.
They have been strategically deployed across the UK with the aim of helping to reduce pollution levels in key cities in which CitySprint operates, including London, Leeds, Bristol, Manchester, Southampton and Birmingham.
With the expansion of Low and Ultra-Low Emission Zones in cities across the UK, the electric vans will be a valuable addition to CitySprint's existing fleet and will play a part in ensuring the business continues to offer its customers a seamless and premium sustainable experience year-round.
Mark Footman, Chief Operating Officer at CitySprint commented: "At CitySprint, we have always acknowledged that, due to the nature of our work, we — and the logistics industry as a whole — have an important role to play in lowering emissions. For us, doing the right thing for the environment, the communities in which we work and for the people who live, work and play in these communities is vital. That's why we are constantly looking for ways to further strengthen our existing green fleet across the UK.
"Our new electric vans will help us to reduce our environmental impact in the cities in which we operate and is a step in the right direction for us to achieve our aim of having a fleet of over 200 green vehicles across the major cities we work in the next 2 years."
As a result of this acquisition, CitySprint's electric vehicle fleet now comprises of 43 electric vans, 24 cargo bikes, 6 electric motorbikes and 4 electric bicycles, with the business continuing to explore ways to further grow this in the year ahead. This news follows the announcement last year that CitySprint has achieved carbon neutral status — 18 months ahead of schedule.
Share this story