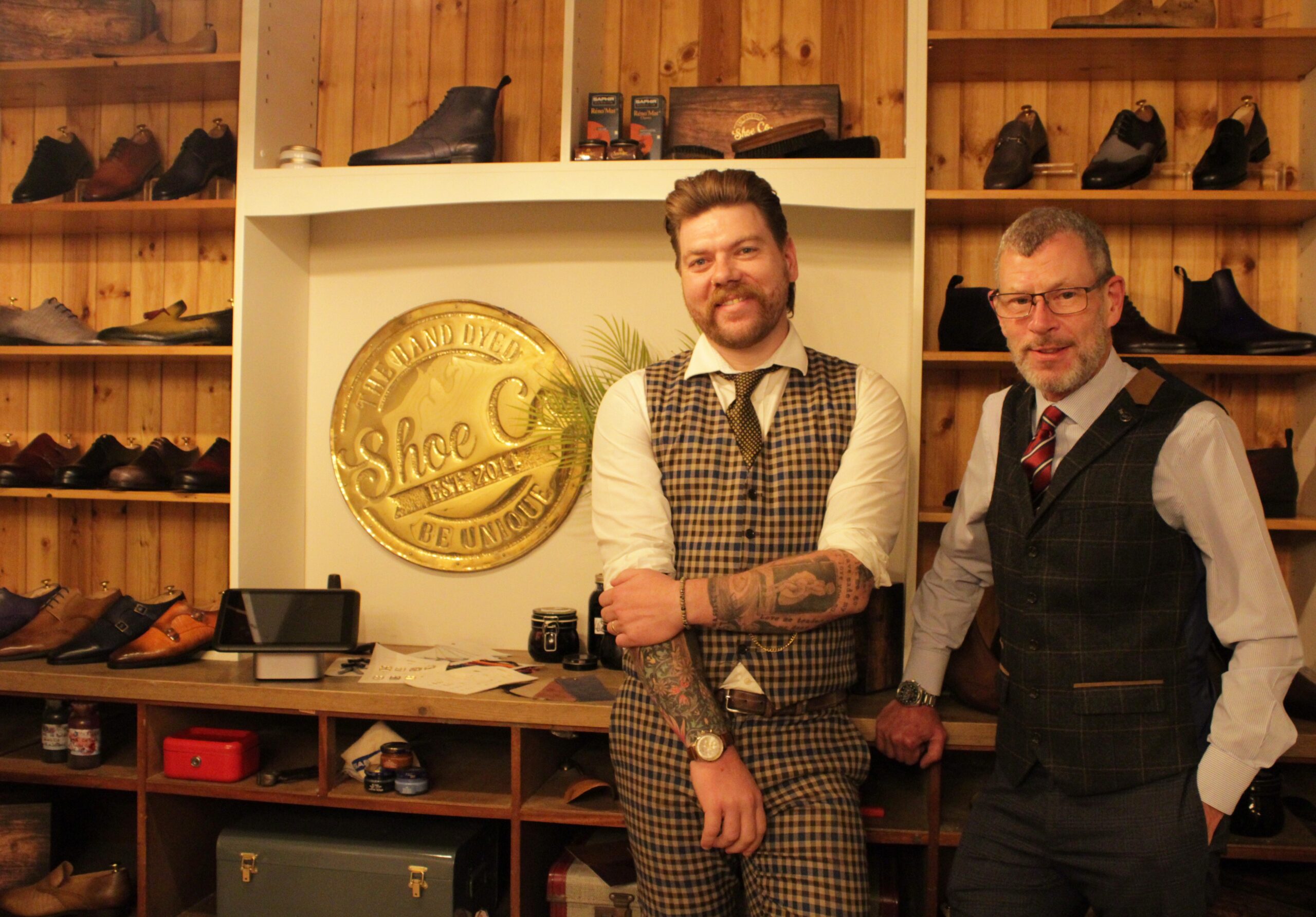 Charles Clinkard announces the launch of brand-new concession, Hand Dyed Shoe Co, opened in its Leeds store on Monday 27th September.
The concession will be in a never-before-seen space, The Rooftops, located on the second floor within the Charles Clinkard Leeds store.
Founded in 2014 by craftsman Simon Bourne and based in Durham, Hand Dyed Shoe Co. offers a unique and completely bespoke one-hour shoe-making experience which includes fitting and design with over 30 different shoe styles to choose from. The one-hour consultation service includes a four-point fitting for length, heel to arch, width, and instep while customers gain expertise from their fitter on the history of different styles of shoes.
Customers can then design and visualise their shoe with 3D software, allowing them to customise everything from the sole, the finish, the colour, and the monogram. Each pair of shoes will then be individually handcrafted from four to six weeks.
Crafted to last, each shoe also comes with detailed aftercare advice plus a repair service is also available. Retail prices range from £299 up to £450 depending on the chosen design and includes the one-hour consultation.
Customers can also purchase gift vouchers either as an e-voucher or gift box which includes a personalised invitation, product cards and inspiration, and shoe facts, with the option to add extras such as Hand Dyed Shoe Co. socks, gin or a cedarwood shoehorn. Gift vouchers are available to purchase online and instore from £49 up to £399 in value.
Hand Dyed Shoe Co. founder Simon Bourne, said: "It's truly an honour to be partnering with Charles Clinkard to launch our first ever concession and be sold alongside the likes of renowned brands Loakeand Barker. We chose the Leeds store because the concession will be in an area of the store that's hidden away, and we hope this will bring customers a sense of exclusivity when they visit us. I will be on hand from Monday 27 September to Wednesday 06 October to personally conduct shoe fittings before we hand over to store manager Mark Goward, who is equally looking forward to this new partnership."
Tim Payne, managing director at Charles Clinkard, said: "We're proud to support another independent North East brand, Hand Dyed Shoe Co. to launch its first ever concession at our Leeds store. The customer experience has always been at the centre of Charles Clinkard's values, so we are delighted to partner with Hand Dyed Shoe Co. to bring customers a truly unique service which allows them to design their own made to measure shoes."
For more information and to shop visit www.charlesclinkard.co.uk/handdyedshoeco