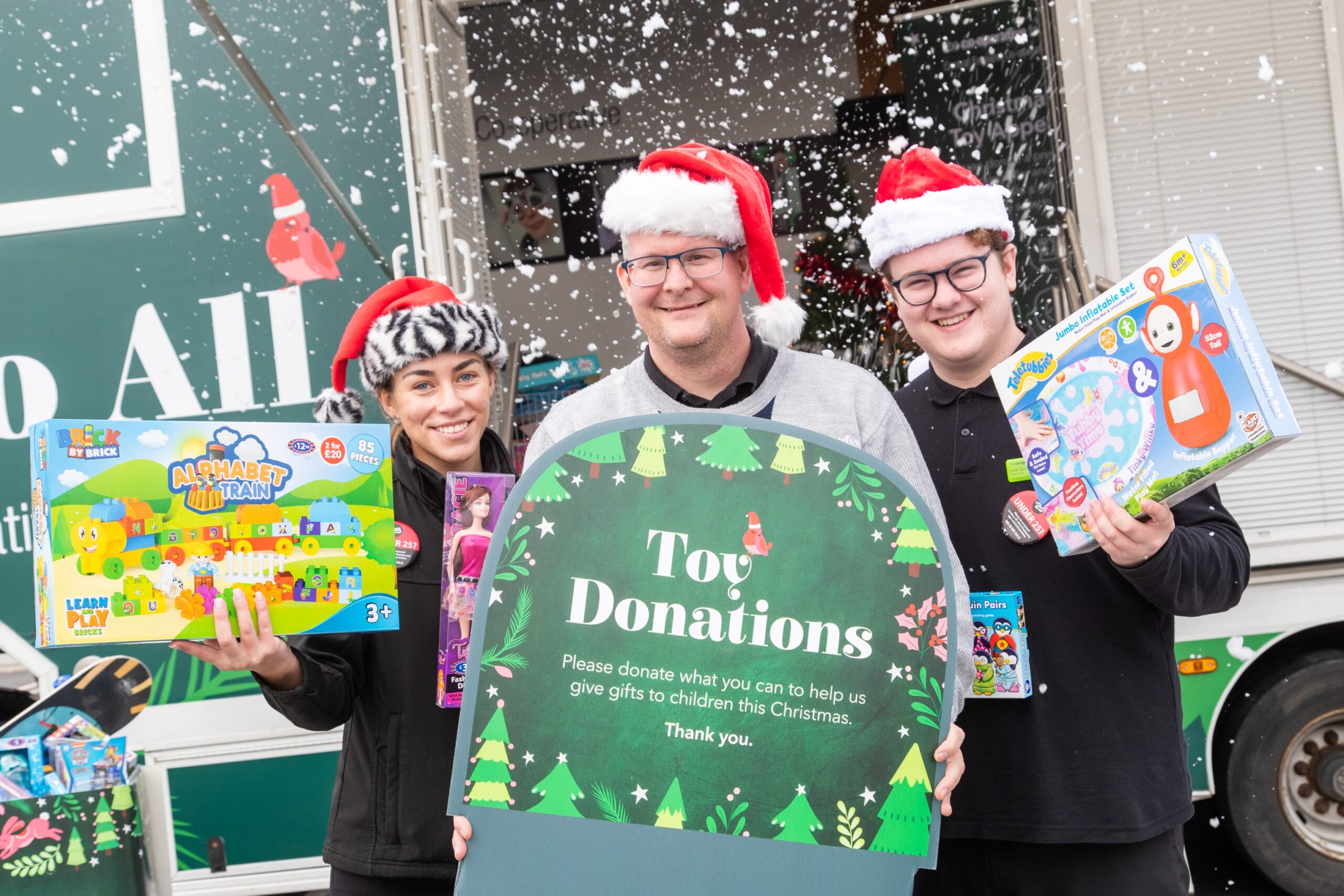 Christmas Toy Appeal returns across Central England Co-op stores from November 4 – December 2
Central England Co-op has collaborated once again with organisations such as Family Action, Birmingham Salvation Army, and Rainbows
There will be numerous opportunities across the month to donate toys at locations across Central England
Our specially outfitted lorry will be visiting stores across the area, collecting donations from shoppers
Central England Co-op is celebrating the festive period once again with the yearly Christmas Toy Appeal, delivering gifts to children in need across Central England. This is made possible by generous donations from members and customers, who can donate a variety of toys from November 4 to December 2, and last year alone saw over 10,000 toys delivered to children across the region.
Donations can be made at all of the retailer's 248 food stores and 179 funeral homes, and will then be distributed to organisations including Family Action, Birmingham Salvation Army, The Young Ones, and The Active Wellbeing Society. Central England Co-op is continuing its ongoing support of local food banks with the Christmas Toy Appeal too, following seasonal pushes earlier in the year.
Debbie Robinson, Central England Co-op CEO, said: "Every year our Christmas Toy Appeal brings joy to so many children, and that's why we're so passionate about it. This year will be especially important as we extend this support to the children of families fleeing the ongoing war in Ukraine."
"As the cost of living crisis continues to cause challenges for many families, it's more important than ever to make sure that every child wakes up to a toy on Christmas morning."
"If you're able to, please visit our various locations to donate to this appeal. Thank you so much for your support!"
Items that can be donated have to be new, unwrapped and can include puzzles, games, soft toys, outdoor toys, books, dolls/figures and art materials.
Organisations the Christmas Toy Appeal are supporting include Family-Action and the Salvation Army, along with food banks such as Soar Valley, Hinckley, New Hope, Peterborough, and Yaxley.
Central England Co-op will also be working with Rainbows Hospice again, who provide care and support for children and young people with serious and terminal conditions, and their family, across the East Midlands.
Kirsty Coxon, Corporate Partnership Fundraiser at Rainbows, said: "It is wonderful for Rainbows to be part of the Central England Co-op's Christmas Toy Appeal once again. Christmas is a special time for us at the hospice, when wonderful memories are made. It is lovely for the children and young people who are with us over the festive period to be able to receive extra gifts and we would like to thank everyone who takes part in the scheme and supports us."Central England Co-op will also be hosting special community events in select locations to encourage donations and celebrate the festive period, featuring our very own festive lorry to collect the gifts.
The events will be hosted between 10am and 3pm at:
Boley Park (November 4) – Boley Park Centre, 1, 6 Ryknild St, Lichfield, WS14 9XU
Ripley (November 11) – 1 Derby Rd, Ripley, DE5 3EA
Reepham (November 18) – 135 Station Road, Reepham Norwich, NR10 4LJ
Oakham (November 25) – Burley Road, Oakham Rutland, LE15 7AA
Keep posted to www.centralengland.coop, Twitter, and Facebook for more information and updates throughout the campaign.
Share this story