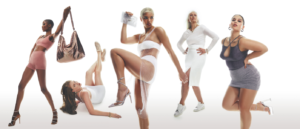 Landsec, part of The St David's Partnership, has announced the signing of two premium fashion retailers for regional debuts. Carvela, the women's footwear and accessories specialist, and international women's fashion label Mint Velvet, are both set to open at St David's Cardiff later this year.
Spanning 2,130 sq ft on the Grand Arcade, Carvela's first standalone Welsh boutique will feature its unique ranges of shoes, bags, and accessories. It is set to launch at St David's in July, adjacent to sister brand Kurt Geiger.
Joining Carvela, and expanding the St David's women's fashion offer, is a regional debut for Mint Velvet, the premium retailer dedicated to providing 'relaxed glamour'. The new store will cover 3,700 sq ft on The Hayes, adjacent to All Saints, and will offer the brand's stylish seasonal apparel, footwear, and accessory collections.
Nik Porter, Head of Retail Brand Account Management at Landsec, commented: ""We're excited to be welcoming both brands to St David's for their regional debuts. The addition of Carvela in particular is the result of a strong partnership we've built with Kurt Geiger which has allowed them to broaden their presence and introduce a new concept to Wales.
As guests look for better and more unique experiences, brands are flocking to the prime retail destination in a city. Over the past 12 months, leading brands including Carvela, Mint Velvet, ZARA, Hobbs, and Phase Eight have all chosen to make their regional debut at St David's, cementing it as the go to destination for retail in Wales."
Sarah Pugh, Head of Carvela Buying & Merchandise, commented, "Signing for our first Welsh dedicated store is another great step forward for Carvela. St David's is a destination with a huge draw for our customers, and one we have been targeting as part of our nationwide expansion for some time. We are looking forward to opening here next month and delivering our future-focused, female-designed products to a new audience."