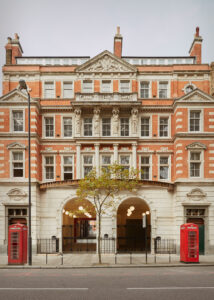 Cain International ('Cain'), the privately held investment firm led by Jonathan Goldstein, has agreed 6,600 sq ft of food, fashion and furniture retailers at its mixed-use north London development, Islington Square.
Sproot, a sustainable fast-food brand, has taken a 780 sq ft unit and has recently opened at the north London mixed-use scheme. Sproot uses seasonal produce and offers plant-based dishes, fresh smoothies and speciality coffee. Angus Lambert, the founder of Sproot, aims to redefine fast food by celebrating fresh produce and creating meals that preserve the planet and consumers' health. Customers at the Islington Square store can enjoy bircher muesli and porridge bowls, salads, smoothies and great coffee.
The Pantry Underwear has also recently opened at Islington Square and taken a 1,120 sq ft unit. The independent retailer, specialising in womenswear from underwear, swimwear, maternity and sleepwear, is known to the Islington community having moved from nearby Camden Passage to Islington Square.
The Lounge Co., one of the UK's fastest-growing furniture retailers, has taken 4,700 sq ft and is due to open in January 2022. Created by the makers of G Plan, Duresta and Parker Knoll, The Lounge Co. offers vibrant, bold fabrics for a variety of furniture models. The Islington Square store will host the largest collection of The Lounge Co. furniture in the country and will be spread over two floors, featuring new pet-proof sofas, eco-friendly recycled fabrics and family-friendly wipe-clean velvets. The new space will also have a swatch hub with 180+ fabrics and leather options to take away, alongside large fabric samples to help customers make their final decision.
Islington Square is located directly off Islington's iconic Upper Street, on the site of north London's former postal sorting office. Retailers taking space at the mixed-use scheme will be situated in a London heritage building, located next to notable names such as Borough Kitchen, Arlo & Jacob, APC and Anatome, restaurants including Megan's, Jiji, Prezzo and Omnom, a Third Space health club and an ODEON Luxe & Dine cinema. Some of the UK's top creatives have also taken office space at the development, including Fullwell 73, the production company that counts James Corden among its partners, which occupies 25,000 sq ft.
Neil Barber, Retail Leasing Director at Cain International, said: "Market trends stemming from the pandemic have encouraged the sector to rethink how we curate destinations to appeal to both the local demographic as well as generate footfall from further afield. Retailers like Lounge Co., The Pantry Underwear and Sproot play a key role in ensuring schemes like Islington Square do just this, and these new offerings will provide our residents and visitors with something unique."
"We look forward to watching the success of The Lounge Co., Sproot and The Pantry Underwear and have no doubt that all three will become a real hotspot for those visiting, working and living at Islington Square."
Angus Lambert, Founder of Sproot, said: "We are proud to begin the Sproot journey at Islington Square. We have a beautiful space where customers can come and enjoy our delicious, affordable and sustainable fast food. We hope that we can draw in new customers to the development who are hunting for a healthy alternative to the usual brands found on Upper Street. We are excited to have our first site in which we can develop our concept further so that we can then look to take on more sites around London in the near future and beyond."
Craig Lyus, Head of Trade at The Lounge Co., said: "We're incredibly excited to open at Islington Square. It's going to offer the ultimate Lounge Co. experience, with our biggest and best range of furniture in a superb retail space that's brimming with quirky charm and character. We've assembled a great team in Islington, including store manager Paulina Chlabicz, who has been with us since the company launched in 2016 and has been drafted across from our original base in Chiswick. Paulina has years of interiors expertise and our new customers in Islington couldn't be in better hands."