New data finds that despite lockdown, many Brits are still planning to go the extra mile to celebrate Valentine's this year  
47% of people celebrating Valentine's Day say they want to buy gifts from local businesses in their community this year 
Addison Lee launches new two-hour delivery service to help local London businesses deliver the goods to customers this Valentine's Day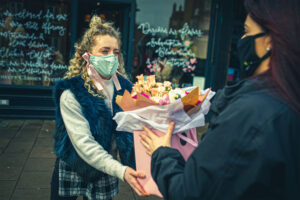 New data from London-based private hire and courier firm Addison Lee reveals that despite shops and restaurants being closed this year, romance fans in the UK are planning to make a special effort this Valentine's Day.      
46% of those planning to celebrate Valentine's Day are determined to make it extra special this year, compared to just 20% who say they are making less effort than last year. One in three of those celebrating (33%) say they will spend more than they did last year, compared to just one in four (26%) who say they will spend less.
It's not just about couples this year, as 31% of singles celebrating Valentine's Day say they are determined to make it extra special for 2021. And with lockdown blues starting to set in, people are using Valentine's Day this year as an excuse to show family and friends that they care – with nearly one in four (24%) celebrating Valentine's Day by sending gifts to family, and one in five (21%) sending gifts to friends.
Showing the love for local businesses 
Many are turning their back on retail giants and looking to local businesses to provide a special gift for loved ones. Almost half (47%) of those celebrating this year want to support local businesses in their community by buying from them this Valentine's Day. 38% say they prefer to buy from an independent business.
Nearly two in five (38%) want to buy something one-off and unique for their loved ones this Valentine's Day, while a quarter (23%) are having a gift specially made this year.
Overcoming online angst
With the shops shut, Valentine's shoppers are reporting anxiety around gift buying this year. For 27% of those celebrating, 2021 will be the first year they have bought a Valentine's gift online. 37% say shopping online is difficult because they can't see what they're buying, while one in three (33%) are worried their gift won't arrive on time if they order online.
But findings also suggest that barriers to buying local exist – more than half of those who plan to celebrate Valentine's (54%) said they'd be more likely to shop with local businesses if they offered a quick and efficient local delivery service 
Helping local businesses deliver the goods 
To help local London businesses make the most of the Valentine's Day opportunity, Addison Lee has launched AL Now – a two-hour, rapid delivery service that gives local London businesses a better, faster way to deliver to their customers.
Local London businesses – antique shops, florists and bottle shops to name but a few – can all take advantage of the new service to offer their customers a rapid and reliable two-hour local delivery option. Already trialling the service in time for Valentine's Day are Islington-based champagne retailer The Finest Bubble (@thefinestbubble), Earlsfield florist Blume Studios (@blumestudiostore), Menswear retailer Hackett (@hackettlondon) and N1 antique store Urban Vintage Affair (@urban_vintage_affair).
Liam Griffin, CEO of Addison Lee: "In the run up to Valentine's Day, London's high streets would usually be filled with shoppers seeking a special gift for a special someone. This year the streets may be empty but local London businesses still have an opportunity to capture the market by offering customers the perfect Valentine's package delivered to their doorstep.
"It's encouraging to see people backing local businesses by shopping with them this Valentine's. As a company that has called London home for 45 years, we are proud to do our bit to support businesses at the heart of every London community – connecting them with their customers and providing a special delivery experience with every purchase"
For more information on AL Now, please go to www.addisonlee.com/alnow