boohoo reveals first EVER customer collection with Reni Ruta to bring a 40 piece edit following inspirational entry to #coupleupwithboohoo competition 
#Coupleupwithboohoo
Social media went wild this summer awaiting to see which islander would secure the coveted boohoo deal. However, boohoo gave its audience a unique opportunity to collaborate on its first ever customer edit.
The lucky winner of the competition was 21-year-old Reni Ruta a model from London who entered the competition via Instagram with an inspirational and important reason behind her entry:
"Having my own edit would mean the world to the little girl in me who grew up not seeing people like her on billboards. I would love to be an inspiration and role model for young girls like to show them that they're beautiful and amazing no matter what their skin colour whilst doing this with a brand I love that supports diversity."
The customer edit
The boohoo competition sees Reni win a once in a lifetime prize which includes her very own 40 piece hand picked collection of autumn-winter transitional pieces consisting of Blazer's, Jackets, co-ords and statement trousers. The collection ranges from £10-£60.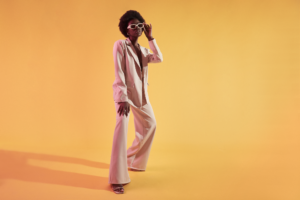 Photo credit: Boohoo.
Reni commented: "I absolutely loved the shoot, the whole day was so fun! It's made me feel even more determined to keep pushing in the modelling industry and representing women of colour, I now know this is something I want to pursue and boohoo have given me that extra confidence push. I can't thank boohoo enough, the team were all absolutely amazing during the whole process and I love the images – I look so good! I can't wait to celebrate the launch on Wednesday with my family and friends"
Boohoo will also host an exclusive launch dinner in London to celebrate Reni's new collab and full photoshoot with boohoo's very own glam squad and expert stylists.
To top off this insane win, Reni will have her moment of fame with a huge billboard going up on Manchester's Princess parkway billboard, which headlines the inspirational reason for her entry
"I would love to be an inspiration and role model for young girls like myself to show that they're beautiful no matter what their skin colour."
Reni is excited to launch the collection and have a taste of what it's like to be an islander "boohoo have not only made my dreams a reality, but they've allowed someone like me to be seen and I'll be forever grateful."