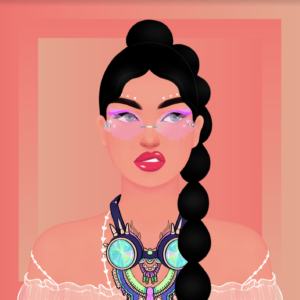 Following the success of the first free NFT drop, boohoo is continuing with its commitment to driving female representation in the metaverse and making the digital world a more inclusive space. This time, boohoo has partnered with four female artists from the NFT community (Amy Kilner, Reem El, Aoife O'Dwyer & Shar.eth) to create an affordable and inclusive avatar collection.
The artists created 230 unique traits and features, with a range of these consisting of statement fashion pieces from boohoo's product range. Using these traits, boohoo created a diverse generative collection of 30,000 avatars which represent the diversity of their community.
The boohooverse story
boohoo initially entered the metaverse by launching its free boohooverse Access Pass, the first in a series of NFTs created in collaboration with female artists and GMGN Labs. The card, which was designed by artist Amy Kilner, was claimed within 2.5 hours and drove huge spikes in website traffic, causing the website to crash.
The newest avatar collection comes with a series of utilities for all users, including:
Access to future metaverse projects
Access to a gated discord community
Access to boohooverse events
boohoo are also giving away fun prizes to randomly selected avatar holders 
Holders will be in with a chance to win:
£1,000 travel voucher
3 x £500 cash
2 x £250 boohoo vouchers
10 x 50% off for life
Winners will be announced on the @boohooverse channels within 2 weeks of the collection selling out.
Sam Helligso (Head of brand) said: "We're so excited to be able to champion female representation once again in the Metaverse. Our aim is to allow our customers to enter the NFT space effortlessly and affordably, while educating and supporting her throughout our voyage into the space. 
Remm El, one of the NFT artists added: "As a digital artist who's new to the NFT space, working with boohoo has given me a very exciting opportunity to get established and gain experience on a generative NFT collection, which has helped open further opportunities for me."
Beyond empowering female NFT artists, part of boohoo's commitment was to make the purchase process as easy as possible to help onboard more members.
"Helping brands onboard their audiences into web3 requires trust-building and simplicity," said Alessio Esposito, Co-Founder of GMGN Labs. "boohoo's brand provides trust, and the use of recognised payment methods like debit/credit cards at mint allow users to buy the NFT simply using an email address and fiat currency. This avoids the need to set up complicated web3 wallets and purchase crypto."