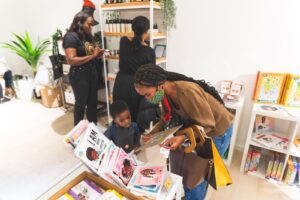 Two years on from their momentous launch in 2020, Black Pound Day, themovement for black-owned businesses in the UK, is launching their first ever permanent store in Westfield London where more than 80 black owned businesses will be able to sell their products.
On 25th June, Black Pound Day will be opening the doors to their first ever storefront in one of the biggest shopping centres in Europe, following last year's incredibly successful landmark pop-up store in the shopping centre. The store opening will enable more than 80 black owned businesses to sell to Westfield London shoppers, with a range of quality products within haircare, homeware, fashion, beauty and a variety of other sectors.
With the aim to get both brands and shoppers back onto the high street, the shop will offer a department store-like experience for consumers to support established as well as up-and-coming black-owned businesses including recent Dragon Den's winner March Muses. The site opening will be making a significant change to the accessibility of black owned businesses, allowing Londoners to shop without having to spend an endless amount of time browsing the shelves to find the brand and products they are looking for.
Founded by award-winning UK music artist and So Solid Crew member Swiss, Black Pound Day aims to encourage people to shop from and spend money with local and online UK black-owned businesses, by replacing your usual purchases with services and products from black-owned businesses. The platform currently has over 1500 businesses on their directory and has done a remarkable job of raising awareness of Black-led businesses up and down the country since its launch.
Black Pound Day founder, Swiss, said: "We are so excited to be in a position to create this opportunity to bring the best of our homegrown Black brands to the general High street consumer, ensuring sustainability and consistency all year round."
He continued: "Glancing back to when we launched our pop up store in 2021's Black History Month, it was a momentous achievement. For those that participated, you could feel the energy shift, how we brought Black retail therapy to the high street, resulting in a mass feeling of reward, which was unprecedented. We really showed how impactful our spending power is, which totally exceeded our expectations. Customers left us with no choice but to go ahead and answer your calls to make the Black Pound Day Store a full time retail experience all year round."
The solution-based initiative was created to support the growth of the UK Black economy, with a mission to address the economic inequalities and imbalances affecting Black businesses and entrepreneurs in the country such as the shocking discovery that To every pound a white household makes Black Caribbean's earn 20p whilst Black Africans earn just 10p. Black Pound Day aims to encourage people of all backgrounds to support and spend with Black businesses locally and online, in an effort to unite all cultures and ethnicities in strengthening the Black economy.
Black Pound Day is currently running a national survey for Black-owned businesses to gather fresh data and research about their needs and experiences which customers can partake in HERE.