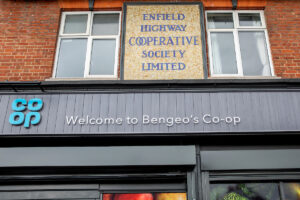 Bengeo's Co-op food store and post office has re-opened following a £650,000 major makeover.
The works not only transformed the store but re-discovered a long lost piece of community history. Above the new sign over the door welcoming shoppers to Bengeo's Co-op, customers will now see a stone placque relating to the "Enfield Highway Co-operative Society Limited" – a society whose history dates back to the 1870's. The historic placque has been renovated and remains on display after It was discovered during the works when the front of the store was replaced.
The 2,200 sq ft convenience store supports 17 local jobs and runs on 100% renewable electricity, it includes Post Office services, a free ATM, bakery and an increased range and choice of fresh, healthy produce, ready meals and pizzas, award-winning wines, free-from and vegan products, Fairtrade, food-to-go and, everyday essentials
The store also has new self-service tills for added speed, ease and convenience, and offers John Lewis parcel collection. Groceries from the store are also available through the Deliveroo App.
Co-op provides a funding boost locally and saves shoppers money through its Membership scheme. In addition to in-store offers, Members are rewarded with 2p in every pound they spend on Co-op branded products added to their own personal Membership account balance. The Co-op also donates a further 2p in every pound to community causes.
Students in Hertfordshire who are TOTUM cardholders – the new name for NUS extra – can pocket a 10% discount off groceries at the Co-op.
Hazel Rudulph, Co-op Store Manager, said: "The store has a great new look – we have had a great response. It has been a fantastic opportunity to carry out such a significant investment to enhance and improve our store for the Bengeo community. We are looking forward to welcoming customers into their new-look store – we have worked to develop the range, choice, products and services locally that will create a really compelling offer in the community."
Lucy Crane, Co-op Area Manager, added: "Co-op is committed to connecting communities and making a difference locally and so I also want customers to know that they can become a Member of the Co-op. In addition to unlocking additional value and personalised offers, our Members also make a difference to local causes, with Co-op now donating 2p in every pound to community causes every time a Member swipes their Membership card when buying own-branded products, and so by shopping at the Co-op they are helping to make good things happen in our community."
Co-op's community Member Pioneer in Bengeo, Kim Hale, added: "Discovering this long lost piece of history hidden was a remarkable moment for the whole team, we had no idea it was there. Members of the community were very keen to see it saved for the future, and so were we. It has been restored and framed as part of the works. The sign denotes a proud past, and now the store has an exciting future following these improvements. We think there must be lots of memories and old photos out there in the community of the store from down the decades, which we would love to see!"
Co-op's Community Shopping Card makes it easier for those self-isolating or who have been instructed to stay at home to shop and pay for their essentials – cards can be purchased or topped-up by calling 0800 029 4592, enabling friends, families, neighbours or volunteers to shop on their behalf in store.
Contactless card payment limits are increased to £45, making it easier, quicker and safer to shop.
The Co-op has raised funds and donated stock to provide over five million meals for the food charity Fare Share, which provides essentials to over 4,000 community food banks across the country. While its Food Share scheme connects with local not-for-profit groups locally to avoid food waste by ensuring any surplus food is redistributed to those most in need in the community.
Co-op has around 4.6M active Members, and alongside Food, it operates: Co-op Funeralcare, Insurance, Health and Legal Services.  More information about the benefits of Co-op Membership is available by visiting https://www.coop.co.uk/membership