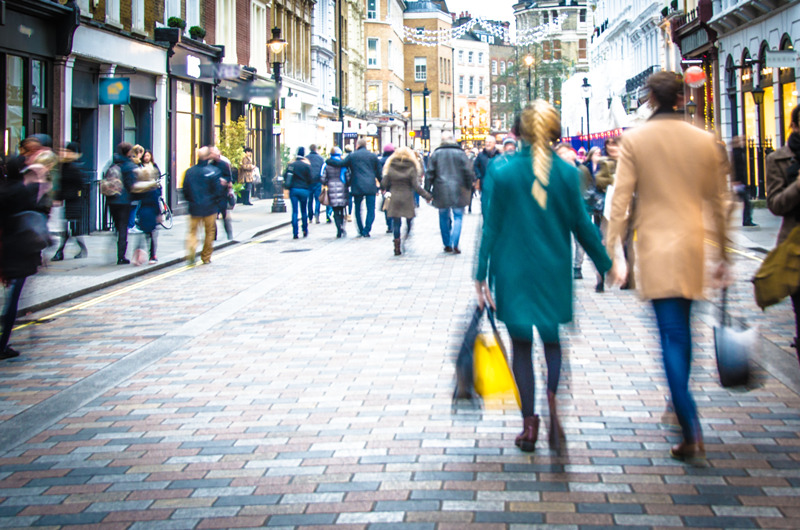 YouGov study commissioned by Gekko finds millions planning shopping spree 
'Retail as leisure' as consumers combine shopping with eating out and socialising

 
As the UK heads towards the spring and an enhanced bank holiday season, millions of consumers have revealed they are planning to go shopping on the forthcoming Bank Holiday weekends. These shoppers are more likely than ever to do this with friends and combine shopping with other leisure pursuits.
​These are some of the findings of a new research report commissioned by creative customer experience marketing agency Gekko and carried out by YouGov. The survey of 2,000 consumers reveals that 13 percent (9 million)* are definitely planning to hit the physical shops and this rises to 18 percent of 18-34 year olds, presenting retailers with a meaningful opportunity for sales uplift.  
Indeed shopping is the fourth most popular Bank Holiday activity (12 percent) behind going for a walk, (45 percent) visiting family and friends (41 percent) and going out for a meal (25 percent).​ 19 percent of respondents also revealed they are likely to spend more on a Bank Holiday weekend than an ordinary weekend, equating to 13 million people. The most popular sectors for retail visits are home improvement (DIY, garden centre) at 22 percent, fashion (21 percent), homeware/ home furnishings (16 percent) and department stores, 14 percent. 
The sociable modern retail experience
The survey also revealed more about the modern retail experience and what shoppers are expecting from their visits to High Streets and Malls. Interestingly, retail is increasingly a sociable experience, especially for younger shoppers. 
45 percent of people combine shopping with a meal out, (rising to 53 percent of 35 – 44-year-olds) and 30 percent with meeting a friend for a coffee/ drinks (rising to 40 percent of 25-34 year olds).​ Meanwhile, 55 percent of us prefer shopping for the home with family and friends versus 39 percent who do it solo.​  
60 percent cite a pleasant retail environment as an important factor in a great retail experience with a marked split between women and men (67 percent v 53 percent). 59 percent want to see promotions, while 42 percent want to be able to engage with knowledgeable shop staff.  
The top reason given for in person shopping versus online is to try before you buy (47 percent). The opportunity for physical retailers to play to their strengths here is huge.
Retailers urged to transform their thinking
On the back of the findings Daniel Todaro, MD of Gekko is urging retailers to transform their thinking about retail and how to encourage customers instore. 
"Our research clearly indicates that we are seeing a real trend toward retail as leisure. After two years of lockdowns, largely working from home and deliveries, shoppers appreciate the benefits of a good physical retail experience. This is underpinned by sociability, combining a trip with meeting friends and dining. Retailers and brands need to complement this by providing an enticing and human-centred experience." 
He continued: "Too often we are seeing a rather nonchalant approach and attention given to customers which equates to potential lost opportunities. Retailers must think creatively about how to enhance the customer experience. A great environment, attentive and knowledgeable staff is more important than just focusing on promotions. With a potential audience of millions on the forthcoming Bank Holiday weekends, retailers can champion the timeless values of a good retail experience to enhance the customer journey." 
*Based on ONS figures on UK adult population
Share this story