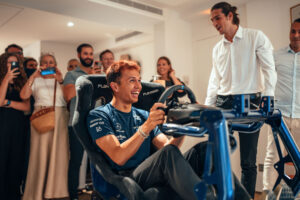 Bang & Olufsen will launch a new experience as part of its ongoing collaboration with iconic British Formula 1 team, Williams Racing.
In the lead up to the British Grand Prix, Bang & Olufsen and Williams Racing driver, Alex Albon, will be challenging the public to take part in an esports racing competition.
From the 24th June to 3rd July, visitors to participating Bang & Olufsen stores will have the chance to impress Albon with their lap time in a state-of-the-art racing rig.
The winner, selected at random from all entrants, will receive a once-in-a-lifetime Formula 1 VIP experience at the 2023 British Grand Prix with Williams, including a meet and greet with the team's race drivers, an exclusive Williams garage tour, pitlane walk and more – the ultimate 'money can't buy' prize for racing fanatics.  There will also be a daily goodie bag for those that set the fastest lap of the day at each of the seven participating stores.
"We're delighted to be able to offer this authentic racing experience for those wishing to try their hand behind the wheel at the British Grand Prix circuit. Our shared passion to deliver 'goosebump moments' to customers and fans alike make
Bang & Olufsen and Williams a formidable team.  We are genuinely excited to see how our customers step up to the challenge." says David Morris, Head of Marketing & PR, at Bang & Olufsen UK.
From the emotion of a dramatic chord change in your favourite song, to the theatrics of a tricky overtaking manoeuvre, Bang & Olufsen and Williams are both in the business of delivering those hard-to-define visceral experiences that make the hairs on the back of your neck stand up.
The partnership between Bang & Olufsen and Williams is based on one shared ethos: the pursuit of perfection. It brings together two names unwavering in their pursuit of excellence, peak performance, and an unmatched desire to bring extraordinary experiences to fans and customers.
James Bower, Williams Racing Commercial Director says: "We were delighted to announce Bang & Olufsen as a new partner of the team at the start of the season. Now to deliver this experience to fans at stores ahead of the team's home race at the British Grand Prix is just a taste of what is to come with the Bang & Olufsen and Williams Racing partnership."
Participating stores include Bang & Olufsen of Ealing, Bicester Village, Glasgow, Wilmslow, Bournemouth, Manchester, and Colchester. Entrants must be 18 or over and a UK resident. Entries from Friday 24th June to Sunday 3rd July at participating stores, where entrants will need to complete a timed lap and provide their full name and email address.