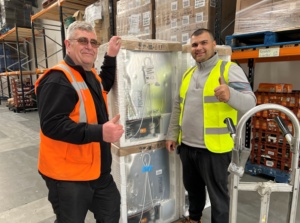 Online electricals retailer AO has donated 96 brand-new fridges to food redistributors FareShare, which will help charities and community groups across the country to store fresh produce for those who need it.
Last week, the under-the-counter fridges were delivered to the FareShare regional centres in Kent, East Anglia and Thames Valley, before they were distributed to local charity partners in these areas.
Due to changes to energy labelling, the fridges would otherwise have been recycled at AO's recycling plant, despite being fully functional. AO reached out to FareShare, the UK's biggest charity fighting hunger and food waste, to see if the fridges could support their mission to redistribute surplus good.
FareShare takes surplus good-to-eat food, which is unsold or unwanted by the food industry, sorts it in its warehouses, and passes it onto a network of over 10,500 charities and community groups. The charity groups and initiatives include food banks, hostels, refuges, pantries, community centres, older people's lunch clubs and after school clubs for children.
The fridge donation will help to increase the volume of food that FareShare can accept from their food industry partners and store safely, ready to be turned into meals. With an A+ energy rating, the fridges will also be some of the least costly for the charities to power.
Lindsay Boswell, CEO of FareShare, said: "We're extremely grateful for the generous donations by AO. The fridges donated will be given to some of the charities and initiatives FareShare supports. This will allow some of the surplus produce we distribute to have a longer life and support FareShare's vision of a future where no good food goes to waste."
John Roberts, AO Founder and CEO, said: "FareShare does vital work getting food to people who need it and I'm pleased AO has been able to play a small part in helping foodbanks offer fresh food. We're all about making decisions that make our mums proud, so huge thanks to everyone who has done that and made this donation happen."