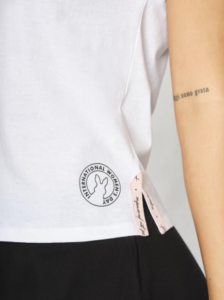 Ann Summers has created an International Women's Day t-shirt to raise money for the UK's retail industry charity retailTRUST.
The limited-edition t-shirt is being launched as part of a collaboration with retailTRUST to celebrate women's success in the retail industry and inspire the next generation, with a design featuring the quote "First comes courage, then confidence, then success" from Ann Summers chief executive Jacqueline Gold CBE.
It will be available to buy from Ann Summers ambassadors for £10 in March, with £5 of every purchase going to retailTRUST to help retail workers access financial, wellbeing and vocational support.
75 per cent of requests for retailTRUST's help currently come from women retail workers. Demand for its support, which includes non-repayable grants and counselling services, has more than doubled since the start of the pandemic.
Chris Brook-Carter, chief executive of retailTRUST, said: "The Trust is proud to be working with Ann Summers in supporting women to help them achieve financial freedom and independence. With the help of Ann Summers, we want to shine a spotlight on the huge role women play in the success of UK retail and the sector's responsibility to provide hope for future generations by creating a fairer more equitable society.
"At retailTRUST we pledge to continue to ensure women across UK retail have the foundations to flourish via access to our mental, physical, vocational and financial health services."
Jacqueline Gold CBE, chief executive of Ann Summers, said: "It's always been a priority for me to create an empowering and supportive environment for all retail colleagues, especially women. I'm so proud to be an Ambassador for the retailTRUST whose mission and values are very close to my heart. Together, we want all women to thrive within retail and pave the way for the future generations for years to come."
Fashion entrepreneur Emma Russell received mentoring through a retailTRUST programme that allowed her to grow her own creative agency and fashion brand.
She said:  "Without the support from retailTRUST, I wouldn't have ever got to where I am now. Knowing that retailTRUST, thanks to the support of the sector itself, is giving young start-ups like me a helping hand is unbelievable."
The Ann Summers International Women's Day T-shirt is available to buy from Ann Summers ambassadors from March.