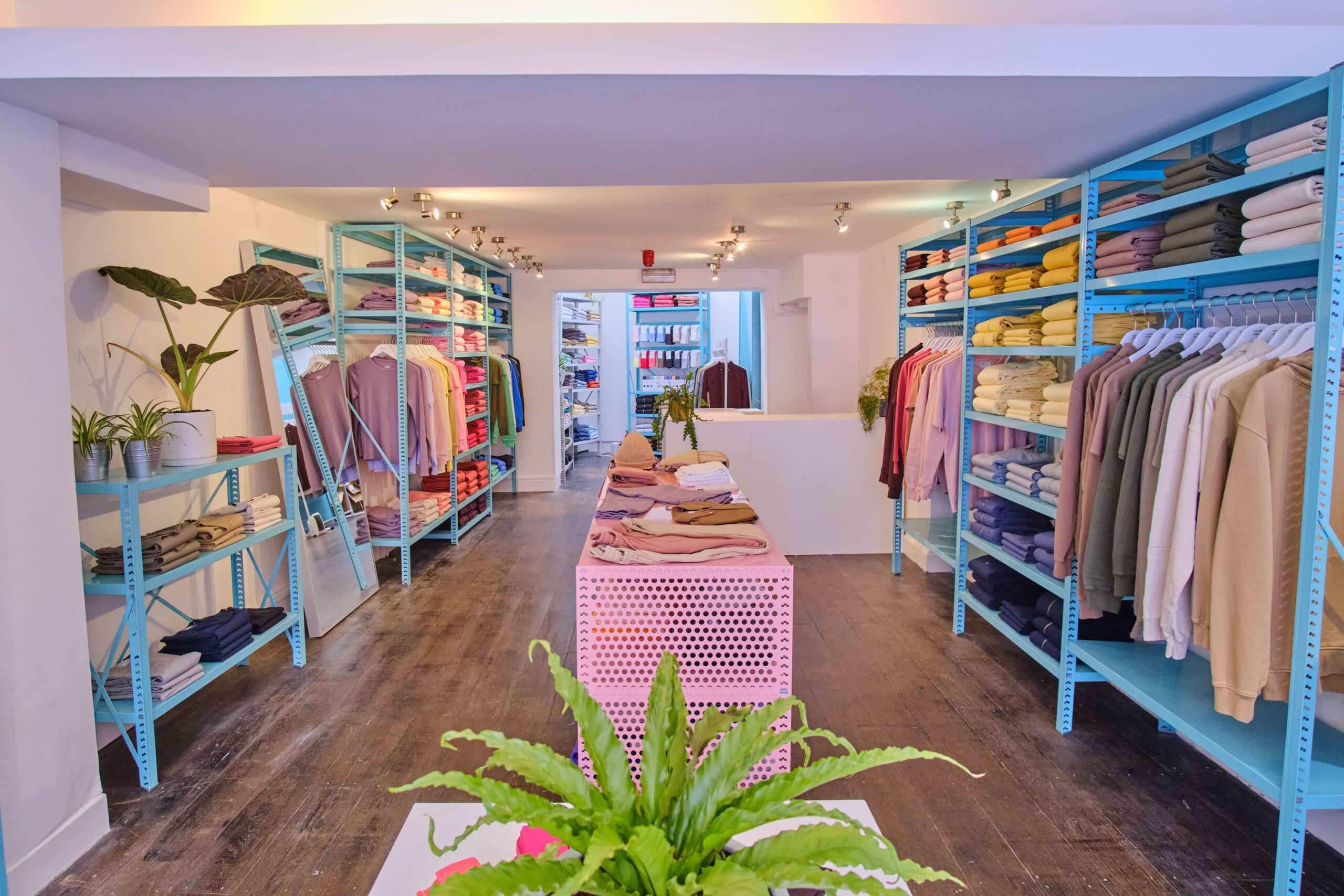 Shaftesbury has announced that popular Danish fashion retailer, Colorful Standard, has opened a permanent flagship space in Seven Dials. This coincides with the opening of two new experience-led retail brands within the Seven Dials neighbourhood, Apex Rides and Hidden Planet, demonstrating the destination's continuous retail appeal.
Colorful Standard was first introduced to Seven Dials last year, with a pop-up store located on 18 Earlham Street as part of the retailer's London expansion. Going from success to success, the sustainable essentials brand has become the latest retailer to take permanent space at Seven Dials, opening in the neighbouring 872 sq ft unit on 16 Earlham Street. The upsized flagship space stocks Colorful Standards' unique collection of clothing and accessories made from 100% organic cotton, recycled merino wool, and other plant-based materials in over 20 styles and 50 eco-friendly colours.
Tue Deleuran, Founder and CEO of Colorful Standard, commented on the new signing: "The UK is our fastest growing market, so it was a natural development for Colorful Standard to open a second flagship store in central London. The multicultural and diverse catchment Seven Dials attracts, makes it the perfect location for this flagship, and it has been great to work so closely with the Shaftesbury team who are committed to creating opportunities for environmentally conscious brands."
This news coincides with two further experience-led retail openings, the first being British smart bike brand, Apex Rides. Opening its first bricks-and-mortar showroom on 5-7 Shorts Garden, Apex Rides looks to make fitness accessible to all via its premium, yet affordable smart bike offering, curated online fitness classes, app and Apex community. Designed by Northbanks Design Ltd, the 1,600 sq ft eye-catching Seven Dials space bridges the gap between the virtual and physical, acting as a place for customers to trial the bike and app, meet instructors and ultimately get a tangible feel for the brand.
The second entrant is conservation-led retail brand, Hidden Planet, which has opened in two Seven Dials locations. The first on 55 Monmouth Street, acts as a part store, part working studio of natural history author and illustrator, Ben Rothery. The 335 sq ft unit stocks a range of highly detailed, natural history inspired prints, books and greeting cards illustrated by Rothery, as well as ethically sourced plants and ceramics. Hidden Planet has also opened in Seven Dials Market, offering an array of indoor plants, soils and garden tools, as well as conservation workshops and consultation services. With a strong focus on sustainability, both Seven Dials units offer an immersive store experience, synergising floor-to-ceiling horticulture with Rothery's detailed creations.
Samantha Bain-Mollison, Retail Director at Shaftesbury, added: "Each of the three experience-led retail openings contributes to the wonderful diversity across Seven Dials and feeds into our forward-thinking strategy which is based around unique experiences. Furthermore, Colorful Standard's decision to take a permanent flagship space within our community demonstrates the value we place on nurturing and incubating emerging brands with an environmentally centred ethos, something we have been focusing on as a landlord."
Hanover Green, Nash Bond and Cushman & Wakefield represent Seven Dials. Colorful Standard dealt direct.