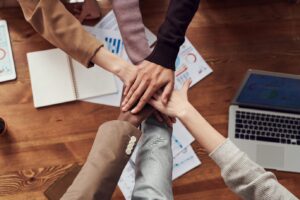 LGBTQ+ allyship is always important, not just during Pride Month. Sally Evans is the Director of Operations at workplace experts Making Moves. Here, she shares the ways in which retailers can implement more inclusive practices into their work environment. 
It's important that everyone feels safe and respected in the workplace, but unfortunately, many companies aren't as inclusive as they'd like to be. This certainly isn't due to a lack of awareness or understanding. In fact, business leaders may know that they need to take steps towards inclusivity but just aren't quite sure how.
If you're looking for ways to make your retail company more LGBTQ+ friendly, here are a few key ideas.
Make inclusivity part of your culture
The first step towards making your workplace more supportive is by making inclusivity part of your company culture. This can be incorporated in a number of ways, from making your stores and office spaces gender-neutral, to adopting policies that are fully inclusive. For example, make sure your family leave policies are inclusive to staff of all genders and sexual orientations and that you don't have any sort of gender bias when it comes to pay.
Remember to be conscious of the wording you use in company communications too. For example, try to use words like "partner", "team", and "employees", rather than "husband/wife", "guys", and "ladies/gentlemen".
Whether members of your staff are 'out' or not isn't important, but making sure they feel accepted and safe either way is. So, it's vital that all co-workers are aware and on board with your inclusivity culture too. Adopting a zero-tolerance policy for discrimination, investing in training, and ensuring you have the support of senior members of staff can help cement the message throughout the whole of the company. Having this sense of community across the whole business also means staff can take action and show their support without having to 'out' themselves.
Implement trustworthy support systems
Creating safe support systems can also help make your workplace feel more inclusive generally. Having a place for employees to share their experiences and report anything they feel doesn't share the company's values can help encourage a more supportive environment as a whole. Dealing with microaggressions in the workplace can be tricky, as they're generally subtle by nature. In many cases, only the victim will be aware of these microaggressions taking place, so ensuring you have a space available for them to be completely open and honest, no matter how small the situation may seem, can help you tackle any underlying biases in the workplace.
Double-check pronouns
When it comes to supporting your LGBTQ+ co-workers, it's important to never make assumptions regarding people's gender or sexual identity. But it's also important not to force anyone to share if they're not comfortable.
Asking all employees to share their preferred pronouns ensures that you can create an open and accepting workspace. For example, try encouraging people to share their pronouns in their email signature if they feel comfortable to, or consider adding pronouns to name badges. This applies to any potential new employees too, so be sure to start asking for pronouns on application forms as well. Taking steps like these shows both your employees and your customers that you're respectful of their gender identity.
Ask if you're not sure
Speaking to your employees is one of the most important steps to consider when making your workplace more inclusive. If you're not sure what you could do to improve, then ask. Inclusivity isn't going to happen overnight. It's a journey that involves the whole company striving towards a common goal, and showing a willingness to learn is just as important as knowing what to do. Sending anonymous company-wide surveys can be a great way to find out exactly what your co-workers want and expect from their workplace, and you can receive feedback on further steps you can take to ensure everyone feels safe and comfortable while at work.
Become an ally
Inclusivity shouldn't just stop at your internal processes either. Supporting the LGBTQIA+ community means becoming an ally at an external level as well. Be sure to make your allyship visible across your social media channels and any advertisements by using inclusive imagery and wording, and by showing rainbow stickers and badges on your desks and uniforms. Make sure you're doing this not only during Pride Month but all year round too, to show consistent support for the community. You should also show your support by sponsoring local initiatives and organisations and by donating to LGBTQIA+-focused charities.
Doing this helps to communicate your allyship to your customers too. People are more likely to shop with brands that share their values, meaning they're potentially more likely to shop with you over a brand that hasn't shown their support. But it's vital that you avoid performative "rainbow washing" and have the credibility and processes to back your support. So, be sure to incorporate the steps above, and even communicate these steps with your customers.
By implementing these changes and by making inclusivity part of your culture, you can begin to ensure that everyone feels safe and respected at work. This can be a gradual process, so working with your staff and encouraging communication and honesty will be key to fostering a more unified space.