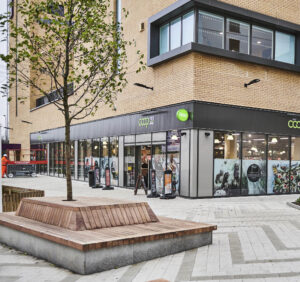 Your Co-op in a neighbourhood of Oxford is redefining what a retailer should be and is having a profound and positive impact to the lives on many in the community in which it serves.
From working with local enterprising supply businesses, to supporting the vital efforts of community foodbanks, as well as engaging with local education and encouraging shoppers to make a change for good when they visit the store, the Botley project is a prime example of what can be achieved when everyone pulls in the same direction.
During a year like no other, there has been a collective mission to reinforce the role of the co-operative in the community and be a force for good – all as part of the Your Co-op's ongoing 1Change strategy to encourage us to make better use of the resources we have.
Mike Pickering, Co-operative Social Responsibility Manager, The Midcounties Co-operative, explains: "The 1Change programme has been the catalyst for so much to be proud of and Botley is a prime example of where collectively, we can play a rightful and proactive part in the local community to make a difference."
At Your Co-op Food Store in Botley, the impact of 1Change has led to decisions to stock over 700 products directly from a network of 130 local suppliers, thereby supporting efforts of small businesses to establish themselves and to grow.  Supply certainty from The Midcounties Co-operative for each of the local enterprises means they have the confidence in the future and can look to invest.
And the decision to collaborate with local suppliers also drives real social value.  The local network includes the Tap Social Movement, a craft brewery and social enterprise that actively seeks to employ people who have been through the criminal justice system.  It provides a second chance for former offenders and their families to establish themselves thanks to the certainty of employment.
Matt Elliott, Director of Tap Social, adds: "We're delighted that Your Co-op has chosen to work with us. Its confidence in helping us launch our new range of cans and reach an ever-broader audience is hugely valuable, enabling us to directly support more people moving out of the criminal justice system, and raise awareness of the barriers individuals face as they re-enter society after prison."
Likewise, a supply contract with Oxford Wholefoods who employ people with learning disabilities, enables the company to continue to do more good work locally.
Meanwhile, with all customers also asked to consider making just one change that can add up to a big difference, the willingness of everyone to get involved has continued to strengthen.
Mike Pickering continues: "We have stocked refillable food stations with compostable bags so that the damage caused by single use plastic continues to be reduced.  The overwhelming reaction from shoppers has been positive and the popularity of the actions we have taken is clear evidence that our customers want to join with us on our 1Change crusade.   By everyone making just a single change in what they do, how they shop and the purchasing decisions they make, the cumulative effect can be powerful."
And Botley's colleagues have also gone the extra mile to illustrate their commitment to making a difference. 2020 has seen the team volunteer over 700 hours of their own time to community-based projects, providing arms and legs to support socially valuable projects that help people who need it most.
Some of these hours have gone to launching a home delivery volunteering service to support vulnerable members of the community. During the pandemic, store colleagues from across the network have provided home deliveries to those who need it most. More than 100,000 home deliveries have been fulfilled across The Midcounties Co-operative's trading areas since its launch.
Another project includes the Oxford Community Emergency Foodbank. The partnership involves supplying much needed support and practical assistance for a foodbank charity that is sadly experiencing increased demand, Botley is trying to do its bit to ensure that people most in need receive it.
This support ethos also extends to work with the local Botley school and the organisation of education sessions for pupils around the topic of food education.  Help for the school has also extended to joint work with the local low carbon hub organisation to install solar panels at the school premises to promote a more sustainable outlook around future energy consumption need.
The area is also key to Co-op Community Energy which focuses entirely on supporting renewable community energy projects across the country. One of these projects is Osney Lock Hydro near Botley which is the first community-owned hydro scheme to be built on the Thames. Through Co-op Community Energy we helped bring this low carbon solution to the market through the Co-op Community Power Tariff,  and through this tariff The Midcounties Co-operative has power purchase agreements in place through the Low Carbon Hub, which includes  Botley school's solar panels.
It is initiatives like this which have seen The Midcounties Co-operative receive top national awards, including the most recent accolades of Business of the Year and Social Sustainability & Community Development award in the edie 2021 Sustainability Leaders Awards.  This is in recognition of efforts that take place to create a sustainable future, and support provided to communities and charities like those in Botley.
Mike Pickering adds: "The Co-op community in Botley is a true demonstration of what can be achieved when we work together co-operatively. We want to highlight the success in this area to encourage our members to help us to build what other changes we can make where they live. Through a combined vision and collaborative approach, we can achieve even more in your co-op community where everyone is working together for a common good."
To find out more, visit: https://www.midcounties.coop/landing-pages/1change-for-a-world-of-difference-at-botley/