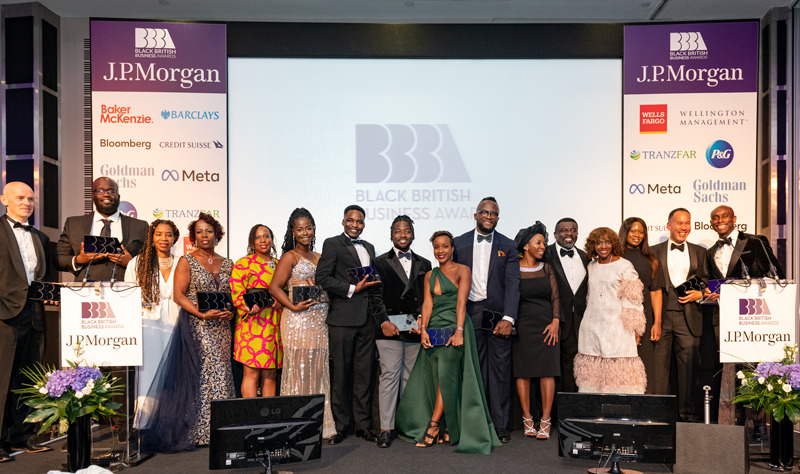 The Black British Business Awards (BBBAwards) are ringing in their 10th anniversary year. Since these prestigious awards were launched in 2014, they have recognised the outstanding achievements of inspirational Black professionals and entrepreneurs across Britain and all industries.
Nominations have officially opened for the 10th anniversary BBBAwards ahead of the ceremony in October. Nominations for this year's BBBAwards can be made online via this link and the deadline for nominations is 17  March 2023.
For this anniversary year, the BBBAwards theme is #WeAre – celebrating the collective power of the Black community and their Allies coming together to drive racial equity in companies in Britain.
Throughout 2023, the BBBAwards will celebrate the impact of BBBAwards Alumni consisting of over 350 Black rising starts, leaders, their Allies and businesses. The showcase will feature Alumni stories, where they came from, their achievements before and since being recognised by the BBBAwards.
Sophie Chandauka MBE, Head of Americas Risk Management and Intelligence at Meta and Chair of the BBBAwards, says: "When we launched the BBBAwards ten years ago, we were told that the reason there were few Blacks in power was because there was "no talent pipeline". Year-on-year, the BBBAwards has demonstrated that this assumption is wrong and lazy. The BBBAwards is a worldclass showcase of Black talent from systemically important global corporations, the high streets and entrepreneur community. We cover every sector: STEM, FMCG, finance, arts and culture. The BBBAwards confirms the power and depth of the Black talent pipeline.  Importantly, BBBAwards Alumni tell us that their inclusion in the BBBAwards has marked a significant step change in their journey, and that the recognition they received continues to generate new professional opportunities."
Cecil Peters, EMEA Head of DE&I and Black Pathways at J.P. Morgan, says: "J.P. Morgan is proud to be a longstanding supporter of the Black British Business Awards. The BBBAwards provide a critical opportunity to spotlight and celebrate leaders and innovators effecting real change in their industries and communities. We wish all the BBBAwards nominees the best of luck for this year's campaign as they continue to inspire and pave new pathways for future entrepreneurs and professionals".
Distinguished BBBAwards stars include Wilfred Emmanuel-Jones MBE founder of "The Black Farmer" range of food products; Dr Margaret Casely-Hayford CBE, Chair of Shakespeare's Globe and Board Member of the Co-op Group; Tom Shropshire, General Counsel at Diageo;  Pamela Hutchinson OBE Global Head of Diversity and Inclusion at Bloomberg; International Emmy Nominee, writer, director and producer Sebastien Thiel; Gavin Lewis, author and Managing Director at BlackRock; Dorothy Koomson, award-winning writer and novelist; and Andrew Ramroop OBE, creative director and master tailor at Maurice Sedwell on Saville Row.
Andrew Ramroop OBE, Creative Director and Master Tailor at Maurice Sedwell and Black British Business Person of the Year, 2017, says: "Since being selected as Black British Business Person of the Year, the recognition received has taken a detour into an unexpected direction. My life story has been played in words and music on BBC Radio 4 Desert Island Discs, the renowned Harvard University's Professor, Henry Louis Gates Jr is at an advanced stage of writing my autobiography and a biopic script has been written by Oliver.
My company Maurice Sedwell has returned to its profitable glory days after covid, our ultra-bespoke tailoring school, Savile Row Academy, is oversubscribed with students and our online training business has been flourishing."
The BBBAwards will honour Senior Leaders and Rising Stars across six different categories: Arts and Media; Consumer and Luxury; Entrepreneurs; Financial Services; Professional Services; and STEM.
For the fourth year, J.P. Morgan will be the Key Partner of the BBBAwards. IHG Hotels and Resorts will be the official Hospitality Partner, and The Telegraph is the national Media Partner at this year's awards ceremony for the sixth year running.
For the first time, thanks to its partnership with IHG, the venue for the BBBAwards will be at InterContinental London, Park Lane in October.
Other significant sponsors are: AlixPartners, Baker McKenzie, Barclays, Bloomberg, Credit Suisse, Goldman Sachs, GSK, L'Oréal, MSCI, P&G, Ralph Lauren, Tranzfar, Wellington Management and Wells Fargo.
In addition to the award ceremony, the BBBAwards has contributed to the progress of racial and ethnic minority talent advancement through a range of important initiatives including Race in The Boardroom, the Navigator Early Career Accelerator, the Cross-Company Mid-Career Talent Accelerator, the Ally Accelerator and the Global Investor Strategy and Corporate Governance Forum which are run in collaboration with the BBBAwards' sister organisation, The Network of Networks (TNON). These programmes enable companies and their leadership teams to disrupt and transform formal and informal systems that hinder the ability to retain and promote racial and ethnic minority professionals into senior roles. It delivers sustained impact through its solutions for inclusive leadership and talent retention and acceleration.
Share this story