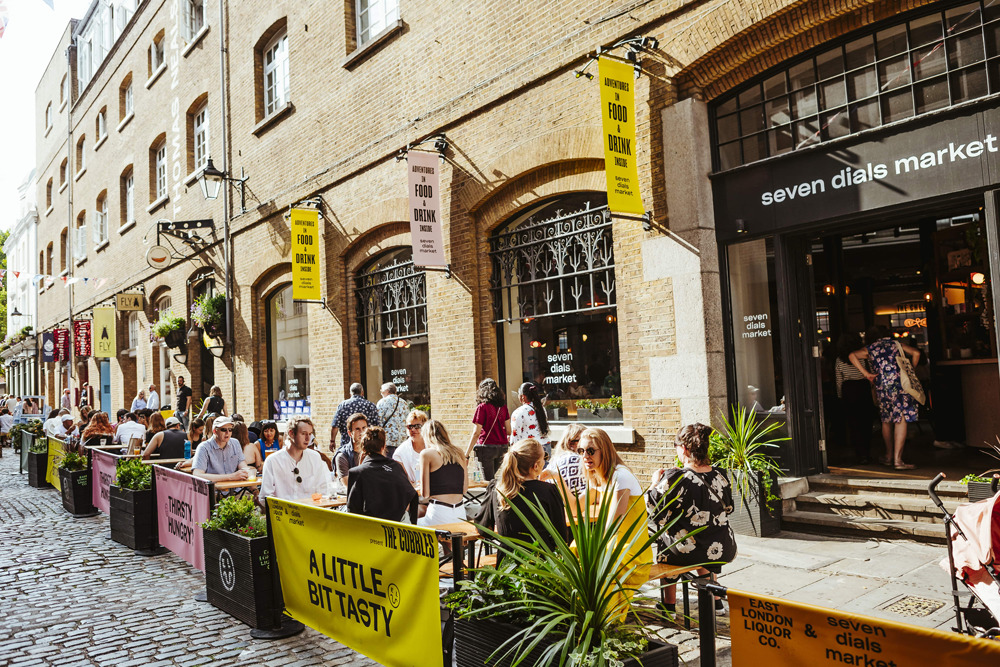 London's leading food hall, Seven Dials Market, celebrates its three-year anniversary, cementing its strong position as a destination for culinary originality, diversity, and exploration.
Located in the heart of London's West End, within Shaftesbury's Seven Dials neighbourhood, the market is street food pioneer KERB's first-ever indoor space and permanent home, bringing culture, community and a hotbed of new and talented brands together under one roof.
Having opened in 2019, KERB's flagship space at Seven Dials Market has led the way in London's food hall and street food evolution, acting as an incubator for a diverse collection of progressive and independent food and beverage traders. Aligning with Shaftesbury and KERB's ethos of championing independent and authentic brands, the food hall provides a space for new operators coming to the market to grow before expanding into other locations. Success stories include traders Truffle Burger and Club Mexicana, both of which have taken additional bricks and mortar space following the triumph of their ongoing tenancy at Seven Dials Market.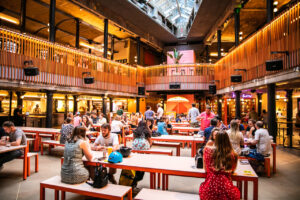 © Photography by Jake Davis
Whilst unique in their culinary offering, all operators at Seven Dials Market are playful, explorative, and accessible, providing a unique experience for consumers. Mirroring the evolving F&B offering, the historic 24,000 sq ft space in Thomas Neal's Warehouse has also developed, with the latest transformation of Cucumber Alley in April. The revitalised space provides a grab and go hub that hosts seven independent brands specialising in sweet and savoury light bites and treats. The food hall now also has a permanent outdoor seating area, allowing visitors to sit alfresco amongst the bustling Seven Dials neighbourhood.
Since 2019, Seven Dials Market has welcomed over 3.6 million visitors through its doors, and almost 124,000 craft Gipsy Hill pints have been pulled. With an ideal layout for accommodating large parties, Seven Dials Market has played host to a number of key events such as Reggae Roast Carnival Weekender, the Winter Festival in 2021 and the Platinum Jubilee Celebration – 'Let The Town Wear The Crown', as well as Summer Sessions in 2019 and 2022.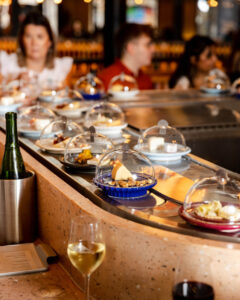 Simon Mitchell, Managing Director of KERB and curator of Seven Dials Market, said: "We are incredibly proud that not only has Seven Dials Market reached its three-year anniversary, but it is thriving! The destination emerged strong from the pandemic and has continued to evolve since. It has become a go to culinary hub for London foodies and we are so grateful for the continued support from all our visitors. Here's to a busy and successful future for Seven Dials Market."
Julia Wilkinson, Restaurant Director at Shaftesbury, added: "Since 2019, Seven Dials Market has operated at the beating heart of the Seven Dials neighbourhood, and we feel enormously proud in its continued success. KERB's unique, supportive approach of nurturing emerging street-food heroes and delivering the ultimate dining experience aligns with our own vision and we look forward to seeing its continued achievements in years to come."
Seven Dials Market commemorates its three-year anniversary as operator KERB marks its 10th, celebrating a decade of exciting street food curation across London. The food hall's three-year milestone follows a busy year for Seven Dials' culinary scene, with the recent openings of Danish bakery Ole & Steen, new dining concept St Martin's House, boutique gelateria ANITA, and French restaurant The Patate. www.sevendialsmarket.com
Share this story