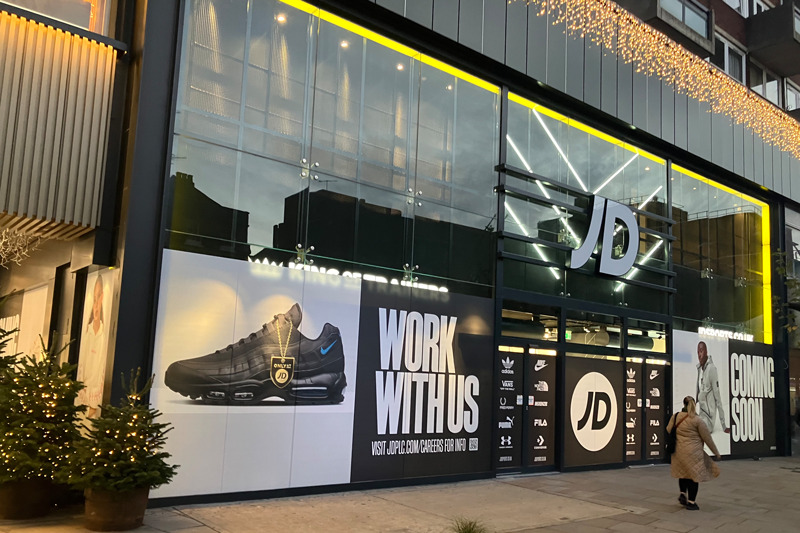 The 4,000sq. ft space will maximise its market share within inner-London, just in time for the Christmas shopping season
JD, a retailer of sports, fashion and lifestyle brands is set to return to Hammersmith after a decade on Saturday 26TH November 2022. The sportswear giant will open its new branch on King Street, at Livat Hammersmith – taking over the prior New Look unit and benefiting from their impressive footfall estimates.
Re-enforcing its status as the leading trainer and sports fashion retailer in the UK, JD will achieve trading continuity, ensuring local residents and shoppers alike are provided with their fix of all the biggest in time for the holiday season. All of which are featured in JD's latest star-studded Christmas ad featuring West London native Central Cee and boxing champion Anthony Joshua.
The King Street store expects to welcome 35 million visitors per annum, sitting between two prominent London Underground stations and a bus station at Hammersmith Broadway. The 18.2m wide, double-height shopfront, will afford JD the latent sales opportunity that exists within the district and currently boasts wintery window placements from influencers, musicians and athletes from JD's 2022 'King of The Game' campaign.
The impressive trading space (4,000sq ft) will offer 27 more local jobs for the community, as the year's busiest shopping period begins.
James Air, Head of Group Acquisitions at JD said: "We can't wait for our superb new store to open in Hammersmith, just in time for Christmas shopping. The store is the perfect size for our customers and will stock all major product lines. We have been looking for the right property here for some time and were delighted to partner with Ingka and Ikea who are investing so heavily in Hammersmith."
Natalia Petelina, Meeting Place Manager at Livat Hammersmith said: "Livat Hammersmith is providing the community with a convenient retail destination as well as a space to meet, spend time and enjoy new things. We're delighted to have JD Sports opening, just in time for visitors to complete their Christmas shopping."
JD is encouraging consumers to head into the new store on the opening weekend from Saturday 26th November (open 9am – 7pm) to Sunday 27th November (open 10.30am – 5.30pm) to experience the new space. Sneakerheads will be able to enjoy a new customisation bar for trainers, allowing consumers to choose a range of coloured laces and hardware to help refresh and personalise their winter look. The launch event will be soundtracked by DJ Raymond to cultivate the coolest shopping vibe that King Street has seen since 2009.
For more information about JD or to check out the latest products, please visit www.jdsports.co.uk or follow JD on Instagram via @jdofficial.
Share this story