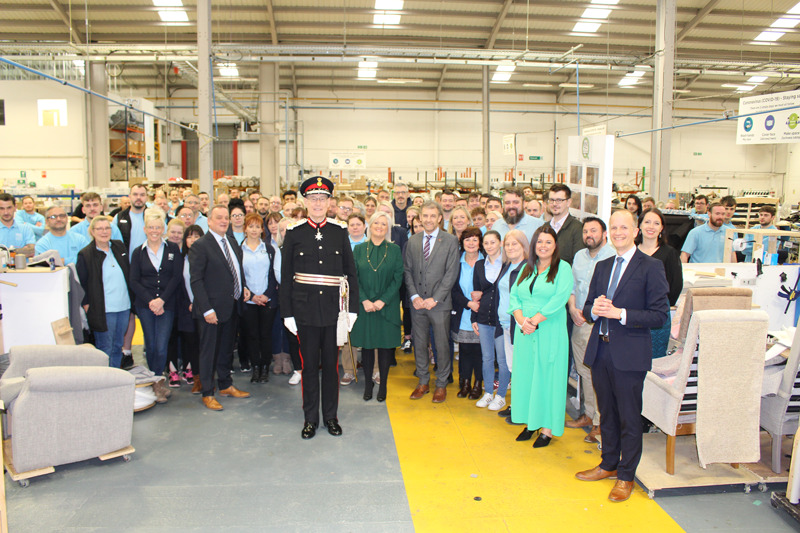 UK furniture manufacturer and retailer, HSL, is proud to announce that it has achieved carbon neutral certification from the Carbon Trust – a milestone achievement.
The Carbon Trust is a global climate consultancy driven by the mission to accelerate the move to a decarbonised future. They partner with businesses, governments, and financial institutions to drive positive climate action, from strategic planning and target setting to activation and communication.
In 2019, HSL made a pledge to decrease its impact on the environment by reducing its carbon footprint and become a carbon neutral organisation by 2025, proving its ongoing passion and commitment to change.
The 55 year-old family-run business is delighted to share that they've successfully reached this huge milestone three years ahead of target, with the support of the Carbon Trust. The process involved measuring their carbon footprint, developing a carbon reduction plan and investing in carbon offsets. Since setting out on its mission to become carbon neutral, HSL has implemented a wide range of initiatives across its business, including replacing lighting across all its showrooms with LED alternatives by the end of 2023 and recruiting an Environment and Sustainability Manager to lead the delivery & execution of 'Mission Zero' – the retailer's environmental strategy.
Additionally, HSL has purchased new company cars to replace legacy vehicles with either fully electric or plug-in hybrid alternatives, which will ensure that all company cars will be a minimum of plug-in hybrid or, wherever possible, fully electric by the end of 2023.
Reflecting on its furniture and manufacturing process, HSL also continues conversations with third party partners to increase the proportion of renewable materials within the retailer's furniture ranges. Since achieving carbon neutral certification, HSL has set out several additional measures that have been or will be implemented in 2023 and beyond, including packaging reuse in its logistics operations.
To compliment the brand's carbon neutral achievement, HSL has also won the British Heart Foundation (BHF) Sustainability Partner Award. The award recognises the exceptional contribution and support that a company, or organisation has made to help the British Heart Foundation raise valuable funds alongside achieving sustainability goals. Since 2015, HSL has helped to divert 7,620 items of furniture from landfill and into BHF stores.
Guy Critchlow, CEO of HSL, commented: "I am immensely proud to be leading a business dedicated and committed to driving positive change, and here at HSL we will continue to seek opportunities to reduce the company's carbon emissions, both in our operations and throughout our supply chain. We know that we must continue to make purposeful changes to not only our supply chains, but to every aspect of the business to make a significant difference. We look forward to continuing this journey throughout 2023 and beyond with great gusto."
Lydia Burrows, Environment and Sustainability Manager at HSL, commented: "I'm hugely proud of our efforts so far, and I hope that our achievements will encourage and motivate companies big and small to take action. There is still work to be done but we're certainly moving in the right direction."
Share this story