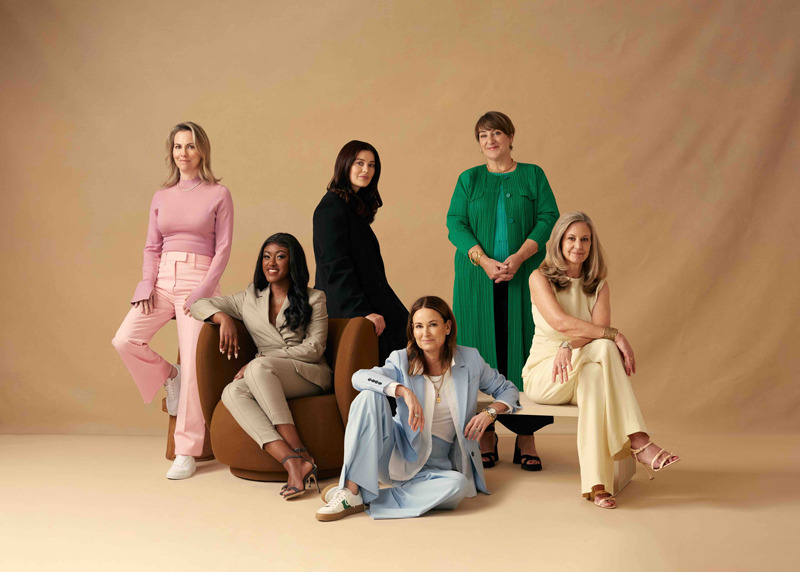 The Veuve Clicquot Bold Woman Award champions women in business and recognises incredible female leadership
Louise Hill co-founder of GoHenry and Victoria Prew, CEO of HURR amongst the shortlist
Focus in 2023 is on female founders taking innovative new approaches to fashion, finance, investment and manufacturing 
Marking International Women's Day, the finalists for the Bold Woman Award and Bold Future Award by Veuve Clicquot have been announced. The award is in its 51st year and continues to showcase the impact of female leadership, innovation and entrepreneurship across the UK.
The Bold Woman Award celebrates exceptional achievements by inspirational women with an established track record of organisational and personal success. The finalists selected by the panel of judges are:
Tessa Clarke — Tessa is the co-founder and CEO of Olio, a waste-busting app that connects local people so they can give away, rather than throw away, spare food and household items. Under Tessa's stewardship the platform has grown rapidly: last month it reached 7 million users, and has so far been used to share more than 92 million portions of food and over 8 million household items.
Louise Hill – after realising nothing existed that could help teach her own children how to be good with money in an increasingly cashless world, Louise co-founded GoHenry. The prepaid debit card and financial education app provides tools to help kids and teens learn about money, all with parental oversight. It has certainly struck a chord, and has been an incredible success, raising a total of $136M through a combination of direct investors, crowdfunding and growth equity, and attracting over two million members.
Clare Hornby – founder of contemporary British clothing brand ME+EM, Clare's career has been fashion-oriented from the start, from handcrafting her own pieces as a child, to selling accessories on Oldham market as a teenager. The brand, which creates 'intelligent style for intelligent women' has seen rapid success since its inception in 2009, and now holds seven boutiques, 200+ employees and an ever-growing loyal community. Their most recent investment raise in March 2022 totalled £55m and the first US stores will be opening later this year.
The Bold Future Award recognises female entrepreneurship and up-and-coming leaders of the future. The finalists selected by the panel of judges are:
Izzy Obeng – Izzy is the founder and CEO of Foundervine – a non-profit which strives to remove the social and economic barriers to innovation. Foundervine has already had a significant impact, supporting over 5,000 diverse-led ventures to start and scale through training, space, networks and access to capital since 2018.
Victoria Prew – Victoria is the founder and CEO of HURR, the revolutionary fashion rental service. Since launching she has raised over £4 million in funding and secured commercial partnerships with industry giants including Selfridges and MATCHESFASHION and fashion brands such as Ganni and Mulberry.
Karen Scofield Seal – Karen is on a mission to make seaweed-based products for people health and planet health.  She is the CEO and co-founder of impact start-upOceanium, which develops innovative materials and food products from seaweed for environmental and social benefit. Oceanium is in its infancy but has already raised over $10 million from ocean impact funds including World Wildlife Fund and Builders Vision.
Veuve Clicquot has a long-standing commitment to female leadership, which began in 1805 with Madame Clicquot, a trailblazer who took over the reigns of the House after her husband's passing, securing its success against all odds.
The awards continue to take inspiration from Madame Clicquot, with judges considering whether candidates emulate her enterprising spirit and courage, assessing four key areas; successfully reinventing traditions, demonstrating entrepreneurial daring, championing better representation of female leaders and maintaining an ethical approach to business.
Jean-Marc Gallot, President of Veuve Clicquot, commented: "This year we have a phenomenal shortlist of women who truly embody the ideals and pioneering spirit of Madame Clicquot while focusing on innovation and finding ways to do things differently. All of these trailblazing women are leading their businesses to great success and have proven themselves to be outstanding role models for future generations of female business leaders."
Katherine Garrett-Cox, CEO at GIB Asset Management and former Bold Award winner, commented: "This year's shortlist is comprised of female entrepreneurs who have achieved great financial success whilst maintaining their ethics and values. The competition was incredibly fierce with some brilliant candidates and those that have been selected have displayed impressive sustainability driven ventures and are striving for a better tomorrow."
To accompany the shortlist, the International Veuve Clicquot Barometer on Women In Entrepreneurship* highlighted the struggles female entrepreneurs face in the UK, with one of the key issues being funding. The research found that the UK has one of the larger entrepreneurship gender gaps (the difference in number between male and female founded businesses): only 6 of 25 countries measured in the Women's Entrepreneurship Barometer show a greater disparity.
Other findings from the barometer include:
Women face more risk- 47% of women believe that building a business is riskier for a woman than for a man (versus 46% in 2021 and 42% in 2019).
Act like a man – A substantial 42% of women believe they must act more like men to succeed professionally. An even greater proportion of women (55%) feel they need to show more authority than male entrepreneurs in order to be respected and female wantrepreneurs in particular agree (61%).
Be mean –  46% of female entrepreneurs are concerned they will not be taken seriously if they are too nice – and 40% of male entrepreneurs agree.
If you can see it, you can be it – Two thirds of the women surveyed for the report believed that having a role model to look up to is an essential part of becoming a successful entrepreneur. This figure rose to nearly all female wantrepreneurs, with 92% stating that they are inspired by female entrepreneurs.
The award's judging panel is comprised of a mixture of industry titans and networkers including Kristina Blahnik, CEO of Manolo Blahnik; Pip Jamieson, founder of The Dots; Sian Westerman, co-chair at British Fashion Council Trust; and Naomi Kerbel, former global head of TV and radio at Bloomberg.
The winners will be announced at an awards ceremony in London on 31st May 2023. 
* The International Veuve Clicquot Barometer on Women In Entrepreneurship surveyed 34,000 adults around the world about their views on entrepreneurism, including 2,010 in the UK.
Share this story