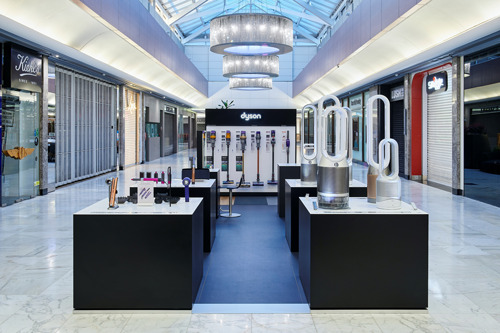 The new Mall Demo Zones are located in Brent Cross Shopping Centre – London, Westquay – Southampton and Meadowhall – Sheffield.
Three new 24m² Dyson Mall Demo Zones have opened in Brent Cross London, Southampton Westquay Shopping Centre and Sheffield Meadowhall Centre.
All locations are home to Dyson's full portfolio of technologies, helping customers discover, explore and better understand how Dyson technology works.
Technologies available include machines across environmental care, hair care and cord-free floorcare. Dyson Experts are on-hand to educate customers on Dyson engineering and to provide shoppers with a hands-on experience and how to get the best out of their machine.
Shoppers in these three new locations can experience hair styling by a Dyson Stylist at our styling stations using the Supersonic Hairdryer, Corrale Straightener and the Dyson Airwrap multi-styler.
The new Dyson Mall Demo Zones in these locations also offer the limited-edition Vinca Blue & Rosé range across all haircare technologies, exclusively for the festive period.
The three new Dyson Mall Demo Zones also offer customisation of the Dyson Airwrap multi-styler as well as gift-wrapping services.
These new spaces form part of Dyson's global drive to grow its direct-to-consumer retail ambitions, bringing pioneering technology to new locations.
Bridging the gap between online and offline retail
With the COVID-19 pandemic accelerating changes to the way people experience and buy products, Dyson has enhanced the customer experience through virtual and online settings. The launch of Dyson Demo VR allows customers to trial, test and understand Dyson's products in an immersive, virtual, online environment. The virtual and online experiences compliment Dyson's physical stores- bringing the convenience of the virtual world with the best of the physical, offline world.
Dyson recently announced the launch of MyDyson App™, providing Dyson's technology expertise, care and maintenance tips and advice, as well as styling and cleaning content in the palm of your hand. MyDyson App users will also be the first to know when sell-out Dyson Technology is back in stock.
Experience Dyson retail online at Dyson.co.uk.
Share this story