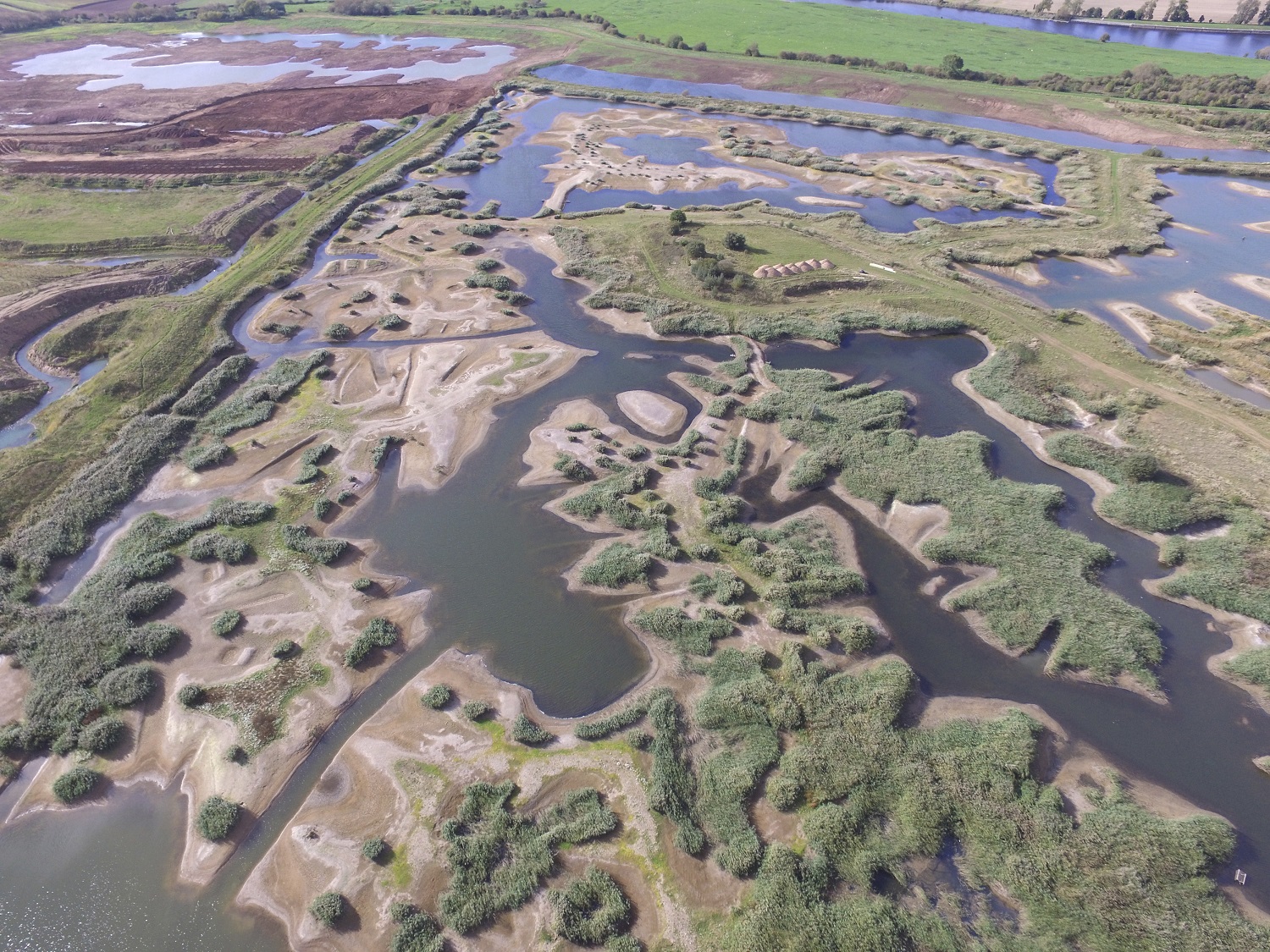 Parcel delivery firm DPD has donated £90,000 to the RSPB to support the nature conservation charity's work restoring a sand and gravel quarry on the banks of the River Trent, in Nottinghamshire.
Langford Lowfields is a flagship conservation project, created out of a partnership involving the RSPB and Tarmac. The reserve currently covers 120ha and provides a haven for nature.  At the heart of the site sits the largest reedbed in the East Midlands, surrounded by wildflower-rich meadows, blocks of scrub and an area of mature woodland. Wildlife highlights include booming bitterns, brown hares, breeding bearded tits, marsh harriers, avocets, large flocks of wintering wildfowl and mesmerising starling murmurations.
Managing water levels at Langford Lowfields is essential to keep the reedbed healthy and attractive to the range of wildlife that uses this threatened habitat, but this management is currently hindered by old, failing sluices.
DPD has donated £90,000 from the firm's innovative Eco Fund to help the RSPB install two new, double-leaf penstock sluices, to ensure water levels can be accurately and efficiently controlled, aiding the on-going establishment of the reedbed and increasing the biodiversity of the site. The funding will enable 18 hectares of wetland to be managed effectively for nature, equivalent to 144 Olympic-size swimming pools.
The work will be carried out during the late summer, after the bird breeding season and once water levels are as low as possible, with the project due to complete by the end of Autumn 2023.
DPD's Eco Fund is part of the company's wide-ranging sustainability programme and is funded solely by the firm's circular economy initiatives. Plastic shrink wrap used throughout the operation is broken down, and then recycled to create new shrink wrap.  The money generated from this, along with the recycling of wooden pallets, goes straight into the Eco Fund to fund sustainable projects benefiting the environment.
Rebecca Munro, Director of Income and Conservation Investment, the RSPB commented; "Wetlands are some of the most biodiverse places on the planet and provide a vital habitat for wildlife. Globally, freshwater species have declined by 83% since the 1970s, so it's essential we manage our existing wetlands in the best way for nature. We're thrilled that DPD's generous donation will help the RSPB to improve precious wetland habitat and boost biodiversity at Langford Lowfields. This is a fantastic demonstration of how businesses can act for nature, and I look forward to seeing the results over the year."
Tim Jones, Director of Marketing, Communications & Sustainability, DPDgroup UK commented; "We are absolutely delighted to be able to support the RSPB on this project.  Our aim is to be the most sustainable parcel delivery company in the UK and as well as transforming our own operation, we want to support organisations able to directly protect and enhance the ecosystems we are all reliant on. Langford Lowfields is already a great example of how business and conservation can co-exist and we look forward to working together this year and to making a difference for many years to come."
DPD's Eco Fund is also supporting WWF's ground-breaking Seagrass Ocean Rescue project, which aims to help restore 15 percent of seagrass meadows across the UK by 2030, to capture and store hundreds of tonnes of carbon each year. While in 2022, DPD announced a four-year partnership with Forestry England to plant and restore four separate woodland sites across England.
Details on all of DPD's sustainability initiatives can be found on its dedicated DPD green website.
Share this story