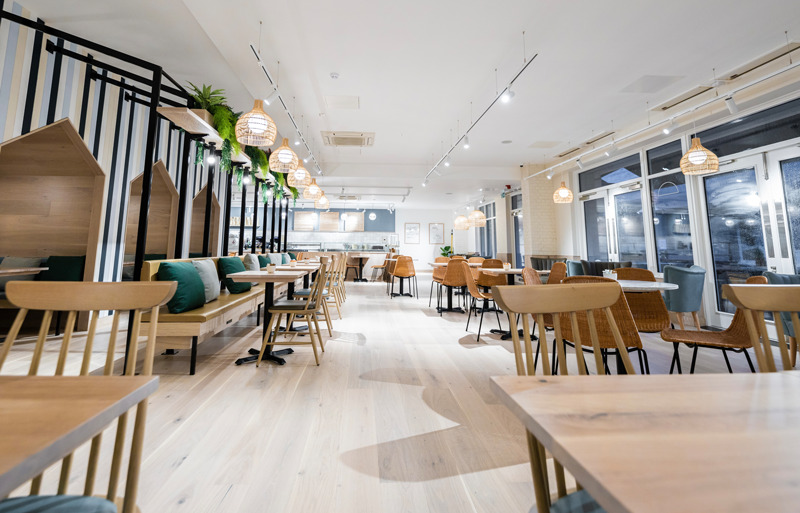 Cornish Bakery, one of the UK's fastest growing, award-winning, independent bakery companies has opened another new location in Scotland's premier design village, Caledonia Park at Gretna Gateway. The 2,500 square foot property marks Cornish Bakery's second Scottish location, with the company set to open a bakery per month in the coming year.
Owned by Railpen, one of the largest pension managers in the UK, Caledonia Park is home to the best designer shopping experience, and a strong partner in the local South Scotland local community.  The opening of Cornish Bakery marks an evolution of Caledonia Park's varied F&B offering, providing a dynamic culinary option for visitors from near and afar.
London-based independent interior design company Path, and Cornwall-based A-side, worked collectively to maximise the 2,500 square feet bakery, delivering warmth with the interior palettes including textured brickwork, light timbers, feature lighting and a range of stylish seating options. Internal 'beach huts' also provide groups and families a chance to 'escape' into a unique seating environment, offering a hint of Cornwall away from the shopping throngs.
Steve Grocutt, Founder of Cornish Bakery, commented, "We are excited to have opened our second bakery in Scotland within Caledonia Park at Gretna Green, as a complement to our location at Annandale. Our focus remains on launching in settings which fit with the brand and return distinctly high yield results and opening in the high-end Caledonia Park does exactly this. What's more, as a destination shopping village, as well as an ideal stop-off for travelers, Caledonia Park provides us with opportunities to engage with new consumers, marking this as another key step forward within our swift and ambitious expansion plans across the UK."
Maria Averkina, Asset and Development Manager at Railpen, said: "It is great to welcome Cornish Bakery to Caledonia Park, as this marks a key moment in our enhancement of the F&B offer.  Our priority is delivering the very best F&B concepts that match the strength of our retail line-up to provide visitors, whether they are regular locals or those travelling from much further afield, with the best choice and variety in the region.  We are looking forward to announcing more operators joining Caledonia Park in the coming year as we continue to implement our strategy of constant evolution of the destination."
Find out more about Cornish Bakery at www.thecornishbakery.com
Share this story