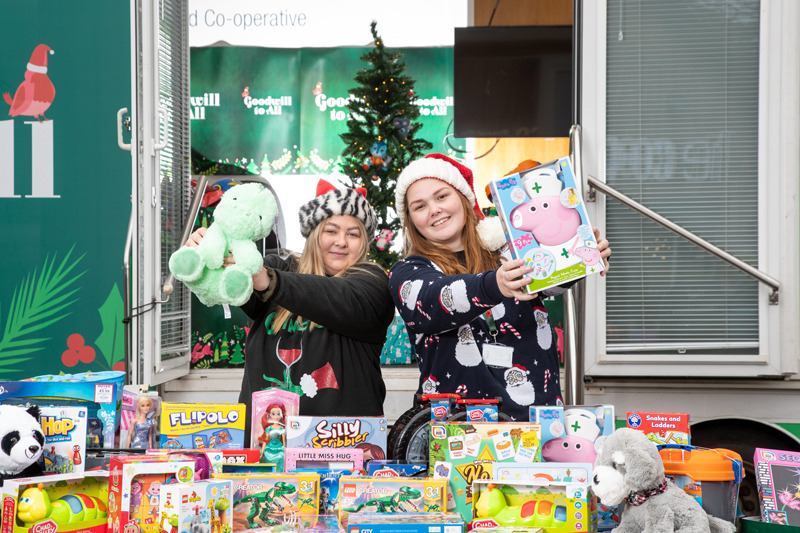 Central Co-op has expressed its delight at the continued generosity of local communities despite the current financial climate. Its annual Christmas Toy Appeal gathered over 7,000 toys for children in need which were distributed across its many partners across the country, including:
Family Action, providing practical, emotional and financial support to those who are experiencing poverty, disadvantage and social isolation across the country.
The Salvation Army, creating lasting change for children threatened by abuse, violence, neglect and conflict.
Rainbows, caring for hundreds of families every year who have a child or young person with a serious or terminal illness.
Play Action International, creating opportunities for disadvantaged children to learn and develop through play. Central Co-op's toys will go towards those in the UK that have been displaced by the crisis in Ukraine.
Along with these charities, Central Co-op has continued to work with food banks including Soar Valley, Hinckley, New Hope, Peterborough, and Yaxley.
Ashton Josephs, Marketing and Communications Manager at Play Action International, said: "Tens of thousands of Ukrainian children have sought refuge in the UK, after fleeing conflict. Many of these displaced children will be waking up to Christmas Day in an unfamiliar place, without their homes, and families around them as they once were. Toys generously donated through the Central Co-op Toy Appeal will provide a much-needed chance for these children to enjoy their childhood and these amazing toys – that can help them to play, develop and begin to heal from the unimaginable trauma they have experienced. Play Action International is immensely grateful for these kind gifts that will bring a little joy to many this Christmas – thank you."
Kirsty Coxon, Corporate Partnership Fundraiser at Rainbows, said: "On behalf of everyone at Rainbows, I would like to thank Central Co-op for their incredible donations. We rely almost entirely on our supporters and their backing enables us to provide care to, and make memories with, more than 300 babies, children and young people with serious and terminal illnesses."
David Holmes CBE, Chief Executive of Family Action, said, "We want to thank Central England Co-op for their extremely generous donation. The Family Action Christmas Toy Appeal makes a big difference to everyone involved, especially this winter as many of the families we work with are facing increasing financial pressures due to the cost of living crisis. For parents, receiving a toy from the Toy Appeal can alleviate both the emotional stress and financial pressures of struggling to find the money to buy a gift for their children. From the feedback we have received, we know that the children love receiving the gifts, and they are an important ingredient to help make their Christmas magic."
The Christmas Toy Appeal took place across all Central Co-op stores with an additional special visit from a festive truck to six locations collecting toys and provide celebratory events. From Ripley to Reepham, Boley Park to Littleover, customers and members flocked to show their goodwill by donating toys at all of Central Co-op's stores and funeral homes.
Central Co-op is delighted at the continued generosity of customers and members over the festive period and beyond, especially given the current financial climate, assisting those in need in various communities across the country.
The Goodwill To All campaign over the festive period also included a partnership with FareShare Midlands, where a portion of the proceeds for weekly Star Deals went towards providing a hot meal to those in need. Over the whole campaign customers and members helped provide over 200,000 hot meals, making a difference to these individuals.
For further details, head to the Central Co-op website, Facebook, and Twitter.
Share this story