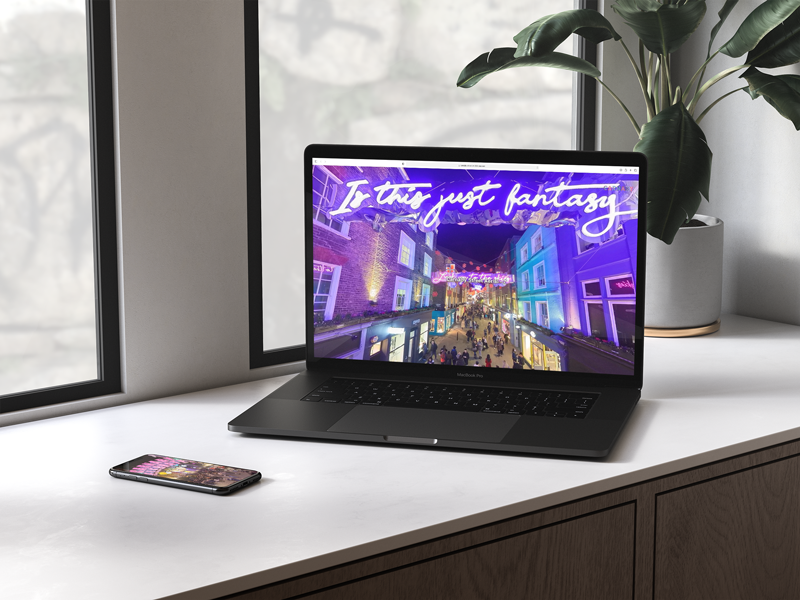 Carnaby is world renowned for its Christmas installations and this year celebrates those iconic moments from the past 25 years of seasonal lights, to create a breath-taking medley of the most coveted pieces. For those unable to visit in person, Carnaby has an online 360° experience that allows visitors to fly through the streets and get up close to the installation. The added bonus is that you can share the digital experience with anyone else in the world at the same time, making this a sharable immersive experience you can enjoy from home for free.
Viewers can enter Carnaby Street on the 360° virtual tour under the landmark arch which is embellished in shimmer disk sequins and carnival decorations, nearby a giant inflatable globe is decorated with 'Carnaby Welcomes The World'. Choose to fly through at street level, or 10ft high in the sky, gliding to view pieces from 14 different past themes including neon lyrics from Queen's Bohemian Rhapsody, glittering Rolling Stones tongues, oversized robins, a giant snowman, colourful palm trees from Carnaby Carnival as well as underwater scenes. Explore Carnaby Street, Newburgh Street, Foubert's Place and Kingly Court or venture on to Ganton Street to fly through the giant light bulb installation.
Simon Quayle, Director, Shaftesbury says: "We are delighted to be able to share the Carnaby Christmas experience in this digital way. We hope that the 360° tour brings fun and joy to family and friends around the world to see the amazing installation."
The charity partner for this year is Choose Love who highlights and supports the urgent need to raise funds for refugees around the world. Choose Love has a pop up shop at 15-17 Foubert's Place selling a collection of limited edition products, along with refugee gifting packages, with a constant stream of celebrity guests popping in to serve customers.
Dawn O'Porter, Choose Love ambassador says: "Since we started Choose Love 7 years ago, we have loved our annual Christmas pop-ups. We get to meet so many new and old friends and everyone comes together in the most magical way to help make sure we can support refugees and displaced people throughout the winter months. And, of course, the iconic Carnaby street feels like the perfect home for us. We can't wait to be back there!"
The 'Carnaby Celebrates' light installation incorporates low-energy LEDs throughout the display, as well as operating on a timer system for the Christmas period to reduce energy consumption.
Share this story