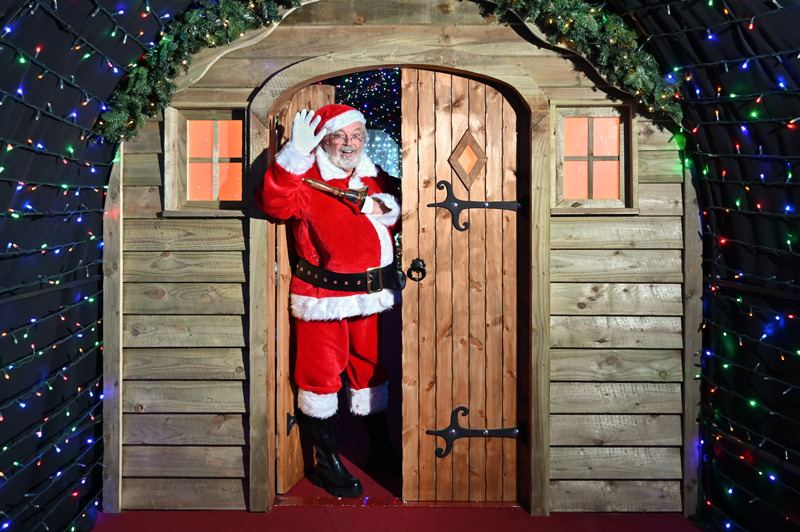 Throughout December, families from around Stirling and Forth Valley visited Santa in his magical Grotto at Thistles shopping centre. This is the second time the seasonal event has been held in support of local charity, Strathcarron Hospice, raising a whopping total of £7,138.98.
In a bid to give back to the community at an important time of year, the fundraising initiative formed part of the centre's ongoing #ThistlesHelps campaign. Introducing a £6.95 ticket charge, Thistles ensured every penny raised was donated directly to Strathcarron Hospice. The substantial donation even received praise from Stirling's MSP, Evelyn Tweed who has lodged a Parliamentary Motion to congratulate Thistles on raising over £7,130, acknowledging Strathcarron Hospice's "fantastic work locally" and commending the generosity of Thistles and the people of Stirling. Following the donation, Strathcarron Hospice will continue to provide specialist Hospice care and expert end of life care for the people of Forth Valley.
The event is in high demand each year, however this year proved more popular than ever, with over 200 Grotto tickets sold the day tickets went on sale.
This year, the Grotto offered families a magical experience, giving visitors the chance to write their very own letter to Santa, take a photo in his reindeer sleigh and receive an age-appropriate gift from the man himself.
Gary Turnbull, Centre Director at Thistles, said: "We are over the moon at the public response to this year's Santa's Grotto experience, and are thrilled to have raised such a fantastic amount of money for Strathcarron Hospice. This year's event proved more popular than ever and we have received lots of positive feedback from customers.
This is the second year of our #ThistlesHelps campaign, which is our way of giving back to the community. We were humbled yet unsurprised to see the kindness and generosity of the people of Stirling repeated with this year's grotto. In 2023, we are looking forward to reciprocating the generosity through our charitable initiatives for the people of Stirling."
Claire Kennedy, Corporate Fundraiser at Strathcarron Hospice, commented: "We were delighted to be part of Santa's Grotto at Thistles again for Christmas 2022. It really is the most magical experience and we are very grateful to all the children and families who visited and supported the hospice at the same time. In these challenging times for all, we want to thank everyone who visited and donated to our work – the sum of which will provide 300 hours of specialist nursing care to people in our care."
For more information on Thistles and #ThistlesHelps, visit www.thistlesstirling.com.
Share this story