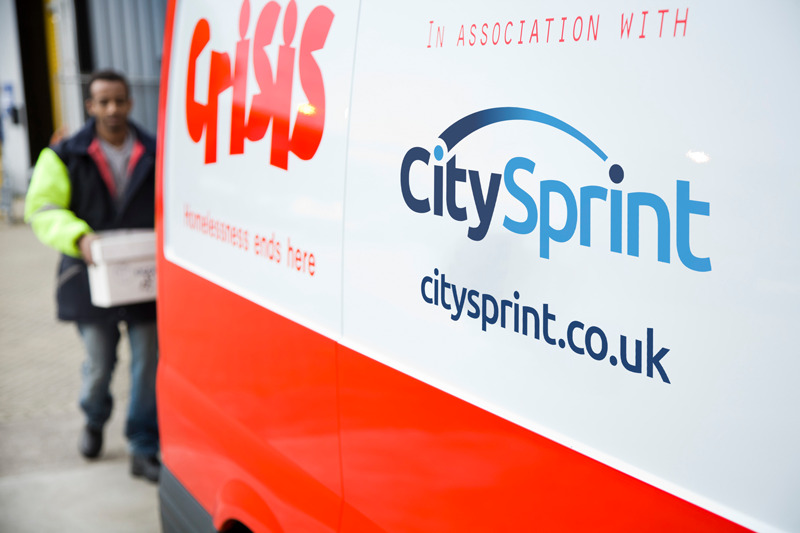 CitySprint — the UK same day distribution company — has partnered with Crisis, the national homelessness charity, for the 12th year running.
Every year Crisis at Christmas opens its doors to people across the UK experiencing homelessness at Christmas to offer much needed warmth, healthcare, food, and company. Throughout their 12-year partnership, CitySprint has provided Crisis with over 100 vans.
This Christmas, in addition to the four vehicles they provide year-round, CitySprint will also supply eight vans across the UK to help people move into safe accommodation, as well as to support retail shops and Crisis at Christmas Hotels and Day centres to deliver food and supplies for guests over Christmas.
As well as their ongoing logistics support, CitySprint donates £12,000 per year to Crisis on behalf of their customers in place of a Christmas gift. This helps to ensure that people experiencing homelessness can be hosted at Crisis at Christmas centres across the country that offer food, medical, emotional and wellbeing support.
Speaking about the partnership, Gary West, CEO at CitySprint, said: "Crisis play a vital role in providing a lifeline for thousands of people across the country and we're proud to have partnered with them for the last 12 years. The current economic climate is proving a difficult time for many, and we want to thank Crisis for the amazing work they do in supporting the more vulnerable especially at this festive time of year"
Matt Downie, Crisis Chief Executive, said: "We are extremely grateful for CitySprint's ongoing support. They have provided invaluable assistance to help get our Christmas services off the ground. This year many people may be without a home for the first time due to the cost-of-living crisis, forced onto the streets in a time of extreme financial hardship. With the support of companies like CitySprint, we will be able to help those people and continue working to end homelessness for good."
For more information about Crisis and to support its Christmas appeal, please visit crisis.org.uk/christmasgift
Share this story