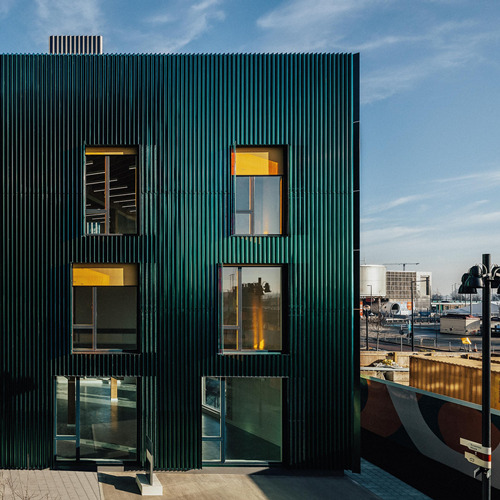 The Surface Design Awards Finalists have been revealed with judges praising the high standard of innovation and sustainability in entries received from around the world.
After a stringent judging process, the Finalists for this year's Surface Design Awards have been selected, with an impressive array of innovative projects in a variety of locations across Europe, Asia and Australasia. Now in their eleventh year, the Awards form an integral part of Surface Design Show, held at London's Business Design Centre from 7-9 February 2023.
The organisers received well over 130 entries from 12 countries for the 2023 Surface Design Awards, once again setting a benchmark for global architectural and design achievements with a strong focus on sustainability. The judging panel was co-chaired by Jonathan Hagos, Director with Freehaus and Nasim Koerting, Head of Design at The Office Group. They were joined by a diverse panel of well-respected industry professionals: Kristofer Adelaide, Architecture Director, KA-A, sustainability expert Stacey McGonigal, Charlotte McCarthy, Head of Interiors, Heatherwick Studio, Christopher Laing, Architectural Assistant, Haworth Tompkins, Fiona MacDonald, Co-Founder of MATT+FIONA, Rion Willard of the Thinking Hand Studio, Nimi Attanayake, Director and Co-Founder of Nimtim Architects and Thomas Randall-Page, Founder of Thomas Randall-Page Studio.
"There were a lot of responses that were very beautiful and interesting," says Nasim Koerting with Jonathan Hagos adding, "It's been really exciting and also challenging comparing projects in Northern European contexts with those submissions from places like India and China."
Over forty projects made the shortlist across the eleven initial categories. Two UK projects which made the cut in the Commercial Building Exterior category were the Design District Building D2 by Mole Architects and The Yards – St Martin's Courtyard by Brimelow McSweeney Architects. Also in the running are Knitted Eaves by India's Studio AVT Architects and Station Nuage by French design studio Atelier YokYok.
The shortlisted entrants in the Commercial Building Interior category comprise Related Argent -Reimagined workspace by Basha-Franklin, Technique by Buckley Gray Yeoman, the Jiva Spa and Wellness Centre by Emil Eve Architects and Nina+Co X Monc designed by Nina Woodcroft and built by Smile Plastics. Stacey McGonigal praised the latter as "a fantastic example of circular design. You can feel the passion and consideration that has been put into this entry."
The Housing Interior category is represented by three British projects: Wiltshire Farmhouse by Emil Eve Architects, Southwark Brick House by Satish Jassal Architects and Spitalfields House by Common Ground Workshop plus India's Earthitects Private Residences by Earthitects.
Meanwhile in the Housing Exterior the shortlist consists of Stepped Loft by Andre Kong Studio, De Beauvoir Square by envelop, Southwark Brick House by Satish Jassal Architects and Arrayed House by Studio AVT Architects.
India is also well represented in the Light and Surface Exterior category with Aaroh by Studio AVT Architects and another nod for the practice's Knitted Eaves scheme. Also nominated in this category are Mycelium – Bay Street Bridge by GPI Design from Canada and two UK schemes: Lightplay – Royal Terrace Gardens by Michael Grubb Studio and The Yards – St Martin's Courtyard Terrace by Brimelow McSweeney Architects.
Three projects have made the shortlist for the Light and Surface Interior category: Yu Seafood by Dialogue38; M'Arks Sky Bar by Taner's Sons and Sky Lantern House by Proctor & Shaw Architects which judge Christopher Laing praised for being "a clever concept. There is so much natural light, it is drawn into the space and blends with the materials."
There's an international flavour to the two Public Building categories. For the Exterior shortlist there'sUdaan by India's Studio AVT Architects and Anwar Gargash Diplomatic Academy by Shape Architecture Practice and Research from the UAE as well as two UK projects: Sutton Hoo by Nissen Richards Studio and The Digi-Tech Factory by Coffey Architects.
In the Public Building Interior section there is the Restoration of Daugavpils Fortress Engineering Arsenal by REM PRO located in Latvia as well as a brace of UK schemes: Westminster Chapel by ScottWhitbyStudio and another nomination for Emil Eve Architects' Jiva Spa and Wellness Centre.
In the Landscape and Public Realm category there are four standout projects in the running: Glade of Light by BCA Landscape; Exchange Square by DSDHA/ Maylim; and further award nominations for both The Yards – St. Martin's Courtyard Terrace by Brimelow McSweeney Architects and Sutton Hoo by Nissen Richards Studio.
The nominees in the Temporary Structure category span three continents. There is A Cautionary Bench/mark by Andre Kong Studio in the UK, Bricktopia by Map13 Barcelona. Several thousand kilometres away, in China, is where you'll find The River Book by Atelier YokYok described by judge Charlotte McCarthy as "a brilliantly joyful piece! It's immersive, beautiful and optimistic." And rounding off our round the world tour in this category is The Lightcatcher by MAP Studio Magnani Pelzel architetti associate in Australia.
The Architectural Photography Award, first introduced last year, once again produced a raft of strong entries. The nominees this time around are A Desert's Rose by Sanaa Aftab, Somaliland Independence Gathering by Lyndon Douglas, Convergences by Matteo Borsetti and Losing Spode by Max Fuller.
The Winners will be announced in a special ceremony on 9 February 2023 including the recipient of the Supreme Winner, which last year was won by The BAFTA Headquarters in London by Benedetti Architects.
To see a full list of the shortlists please visit: https://www.surfacedesignshow.com/surface-design-awards
Share this story