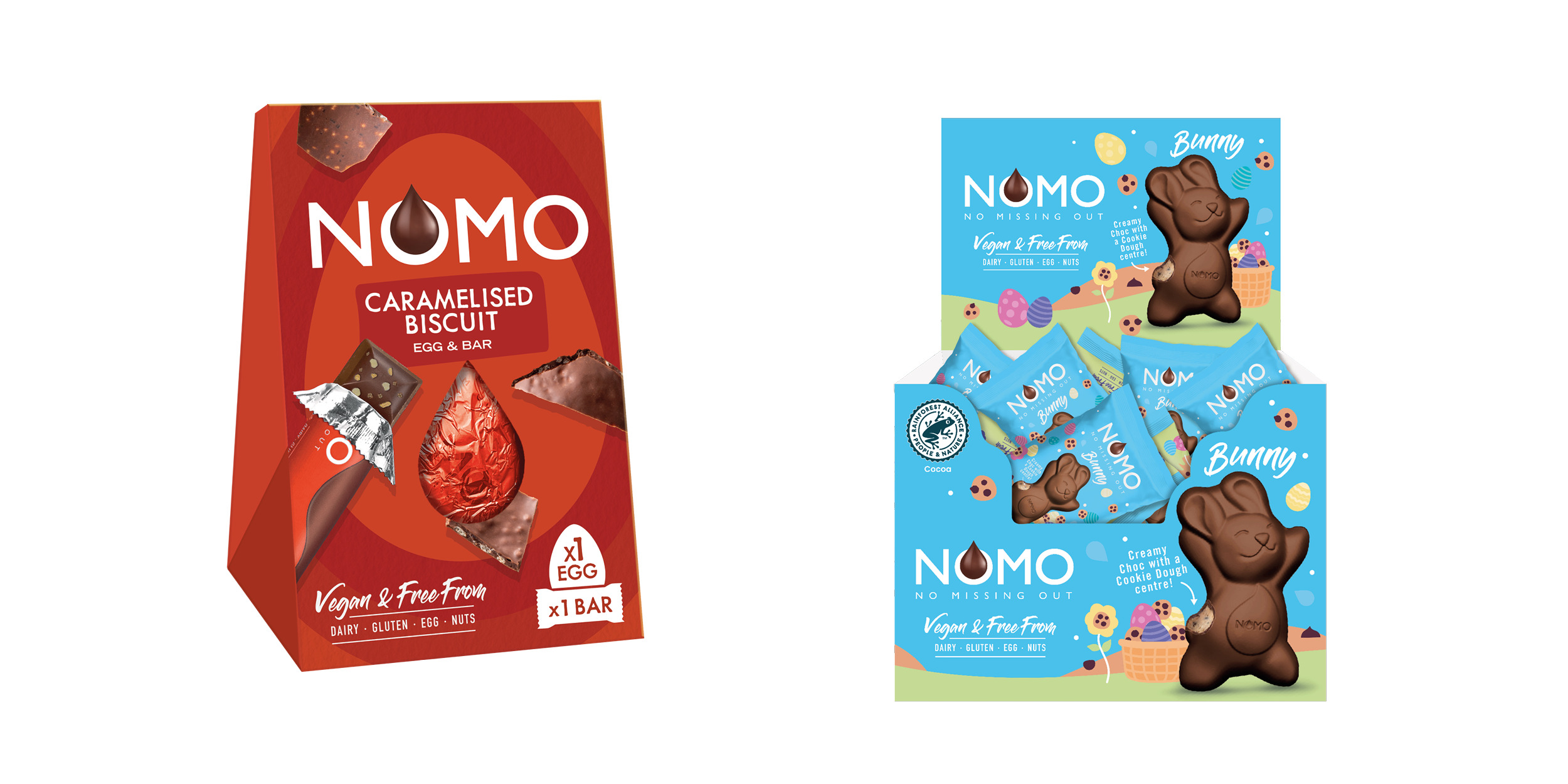 NOMO, the UK vegan and free-from-chocolate brand, has scooped a handful of gold and silver accolades at this year's Free From Food Awards.
Its brand-new Chocolate Orange Bunny, reimagined Kids Egg & Lolly, and fan-favourite Cookie Dough Egg & Bunny have all been awarded gold. Whilst its newest flavour to date –Caramelised Biscuit Egg & Bar – bagged silver.
The prestigious Free From Food Awards – now in its 16th year – is the UK's only awards for free-from food and drink and places a huge emphasis on the importance of inclusivity. Its Easter category showcases the very best free-from products so that consumers of all ages can enjoy egg hunts, sweet treats and family time regardless of allergies and intolerances.
All entries are scrutinised by a carefully curated team of judges with experts in product development, manufacturing, nutrition, and allergy advocacy.
Commenting on NOMO's Cookie Dough Egg & Bunny the judges said: "Beautiful lilac packaging and a good-looking egg with a lovely, well distributed, crunch and not overly sweet."
Whilst the Kids Egg & Lolly was hailed as: "A great looking product that will appeal to children and the chocolate egg doesn't disappoint. A great and safe option for so many with the welcome addition of a choc lolly and fun packaging."
NOMO's chocolate orange bunny was described as: "A lovely plump bunny, visually very appealing. There is a good bite to the chocolate and the filling has a lovely crunchy texture and orange flavour."
Since its inception in 2019, NOMO has dedicated itself to the creation of products that all chocolate lovers can enjoy no matter their allergy, intolerance, or dietary requirements: its latest award haul further highlights that there really is no missing out with the quality of flavours and formats it offers.
Jacqueline Tyrrell, brand manager at NOMO, said: 'Our products are years in the making, with multiple recipe variations and trials to bring a quality product to market that consumers will love. We strive to create free-from products in a range of flavours and formats that are as good as, if not better, than their mainstream counterparts. To win such valuable awards alongside other incredible free-from brands is hugely rewarding and further inspires us to create even more options for our loyal customers in the future."
Share this story